Harry Brelsford of SMB Nation sits down with Marvin Bee of MB Systems of South Florida Inc to discuss the 2022 TechCon Unplugged Conference, which was a dedicated multi-day conference for IT business owners. This in person conference which took place in September 2022 in Chicago catered to IT professionals who wanted to learn from thought leaders on how to improve and maintain their MSP business.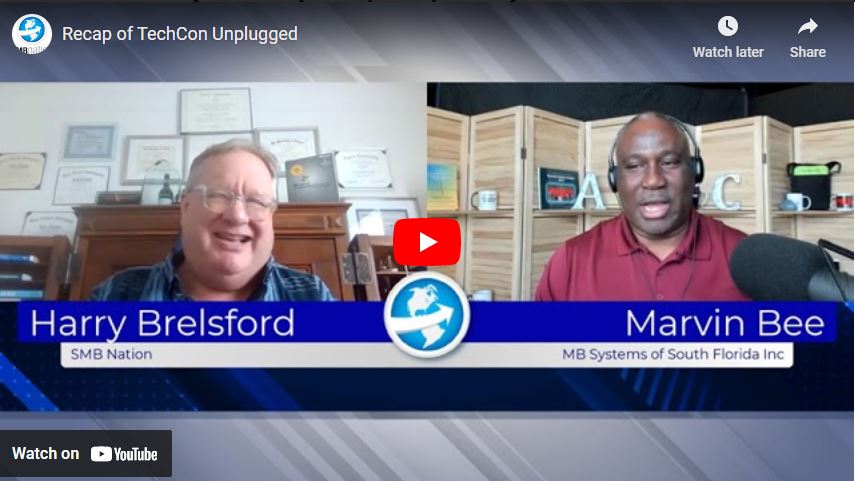 Video Transcription
Harry Brelsford
Hey nation nation back with Marvin Bee from the Southern California area. Marvin, how you do it after that hurricane in particular you do it. Okay.
Marvin Bee
I'm doing pretty good. We made out just fine. And absolutely every single one of my clients made out just fine. So that's, that's probably a first for these South Florida hurricanes. Yeah. Well, hey,
Harry Brelsford
you made quite an impact up on social media, at least on my feed with the posts that you made LinkedIn in particular, you had your show. It's been a while since we talked about that. What's the name of the show? Where was it? And then I want a full show report.
Marvin Bee
Okay, so yeah, we probably haven't talked about that. So the current name is Malcolm ARVs. It Business Podcast,
Harry Brelsford
the podcast. Oh, no, I Okay. I stick in your conference. All the conference. Yeah. And forgive me for calling it a show. Because you're right. The conference
Marvin Bee
probably was a show to some people. But you might be speaking of tech con unplugged. Yeah, that's it. Okay. So it's not really my show. It's actually put on by the gentleman over at MSP unplugged, another great little podcast. So Paco and Rick, are the people that put that together, they did ask me to, in a sense, host or emcee the event. So that's probably why I probably gave off the fake appearance as my event, but it was not okay. Well talk to me. So was that was in Chicago, right? Yes, it was in the month of September, September, the 16th, through the 18th. And it's basically a smaller conference. And it is designed for MSPs. By MSPs, about half of the speakers are actually members of the community. And we share, you know, very pertinent topics relating to our business, everything from, from pricing, how to set up a Wi Fi network, we talked about, you know, contracts and agreements, and all of that stuff. And then we do have vendors that come in, of course, you know, of course, we've got to get the bills paid. Or else they would be too expensive. But it's a very great conference, the vendors are not coming in, you know, to sell, sell, sell, but they're there to partner with us. And, you know, they do need to obviously, make some sales, but they want to hear what the community feedback is. And you know, why certain companies make certain decisions? And what are some of the things that, you know, we want to try to communicate a lot of times, at the bigger conferences, you know, we get kind of preached to, in this particular conference, Paco has made a very good, good job of making it to where this is a, a hand in hand ARM and ARM partnership in the community.
Harry Brelsford
Now, that's, that's a fresh take. And you're absolutely right, you know, we're back. in show business, as it were, I've gotten to a couple of shows in a couple of different industries. And you're absolutely right about being preached to or spoken to, from the stage with the vendors that they can't help themselves sometimes. And I see that on my podcast, where I'm trying to have an academic conversation about the industry. And, you know, you've seen this too, these these people that can't help themselves, all of a sudden, they're talking about speeds and feeds and functions and features. So I'm just like, this is agony.
Marvin Bee
But I will say this, so I just actually got back from the final ASCII Success Summit. And you know, ASCII has done a great job as well, trying to get the vendors to not just simply get up on stage and sell, sell, sell, they actually did I consider it phase one of their of their push to have vendors be more educational while up on stage giving us you know, not just the reasons why their product is the one that solves the issues but you know, describing the issues to us and describing their perspective on on what we as a community should do, you know, when it comes to things like cybersecurity, and keeping customers for life, and those types of things. So this conference this year, I could see a difference where I'd say about half of the vendors were spot on with the event you had in Chicago. So if the Chicago and then the one that asked you didn't get back from Dallas, but I think they were spot on half of them were spot on with being educational and not just simply pushing product. Some of them still, you know have a way He's to go like it's hard for a salesperson to stop selling. So I think a lot of I think a lot of conferences are following suit with what tech con has started. I think I don't I mean, there may be other conferences that have done that, but I have not been a part of them. Tech con was the first conference that I've attended. And, you know, helped to put on that as simply said, we want to be a partnership, share the stage with us, and walk hand in hand with us. Yeah, yeah, I
Harry Brelsford
just got back from I covered last week, last week would have been the first week of October, folks. I covered solar winds and Nabal empowered down in Las Vegas and about Safi a little bit. I mean, don't kid yourself that it was a vendor conference. Okay, I'm not going to mislead you. And they're a publicly traded company, which comes with the another little twist. But what I liked about it, I've grown to like this conference a few years ago, four or five years ago, and I've gone to them pretty much every year, you know, except COVID. In so they had a three year pause. But I scratch my head, you know, this, it was a smaller event for our industry. You know, it was maybe 300 in Orlando, maybe six vendors, this show was 500. And I'm going to say maybe 12 or 15 vendors, and here's what I've learned, Marvin is that they don't want to be it nations, right? They don't want to be Datacom. They want to be a smaller event. Again, it's all relative, but a smaller, more intimate event. am, I've come to like that. I just had to get the memo, I just had to understand because it would have been easy to say, oh, you know it nations bigger. But but that's the wrong conversation
Marvin Bee
about intimacy. I think there's a different conversation. I think the big conferences have their place. I might be attending it nation coming up here in November. And you just have more opportunities to see more stuff at the bigger conferences. But the smaller conferences have more time for what I can consider as the ultimate peer groups. You know, they're not, you know, they're not assigned to peer groups. You don't have to commit, you know, once a week, or once a month for an hour or two hours. But it's those sidebar conversations that you can have with somebody and talk about, hey, here's how my business is running. What What's your business like? And you can have those Heart to Heart conversations. So the smaller conferences, I think, offer more opportunities for that. But the big conferences obviously still have their place.
Harry Brelsford
Yeah, yeah, you need both. I mean, I you know, if I want to go collect T shirts and backpacks, the big conferences, not that like I have too many. I have too many backpacks now, right? I gotta, I gotta go to the school now and hand some out to kids or something.
Marvin Bee
I'm gonna, I'm gonna start a wall of of stuff. I'm gonna have t shirts hanging from the rafters. And it's going to be pretty. Pretty much of a Swag Shop here when I get done.
Harry Brelsford
Yeah, well, hey, I'll end on this. I am going to be at a Cronus down the street from you at the Fountain Blue in Miami. They're, they're back. So the thing is, it's a weird week are really into this. So the week of November 7 through the 11th, folks first full week, November Ingram one and a Cronus Colyton. There are two major I would like to have gotten about, but they collided and I committed to a Cronus. Then on Wednesday afternoon, late Wednesday afternoon, I have a plane to it nation up in Orlando. So hopefully see you there.
Marvin Bee
I mean, yeah, that was a big week too, because another one of my partners just announced a big old event that they're doing right here in my backyard. And so, you know, for events and one week now, some event, I just believe it's just the COVID Hangover, you know, we're finally able to get back out and so people are scheduling. I hope that next year, they're not all on top of each other. But I'll see you at one of those.
Harry Brelsford
Yeah, okay. All right. Hey, thanks for being one of our analysts. We'll talk to you next quarter and I'll see you live in November.
Marvin Bee
All right, talk to you soon. All right. Bye bye.