When was the last time you bought a product or received a service where you went wow, this is really cool? In today's ever changing world it have become harder and harder to wow your customers. Wowing your customers goes beyond just caring for customers, it takes more than doing what you promised. This may seem simple and obvious, but in the hustle and bustle of daily work, it's often overlooked.
However, we have found that the simple things or personal touches such as hand written notes, or picking up the phone and calling the customer can create a wow experience. We meet with Beatrice Phillips who gives us ideas on how to wow your customers.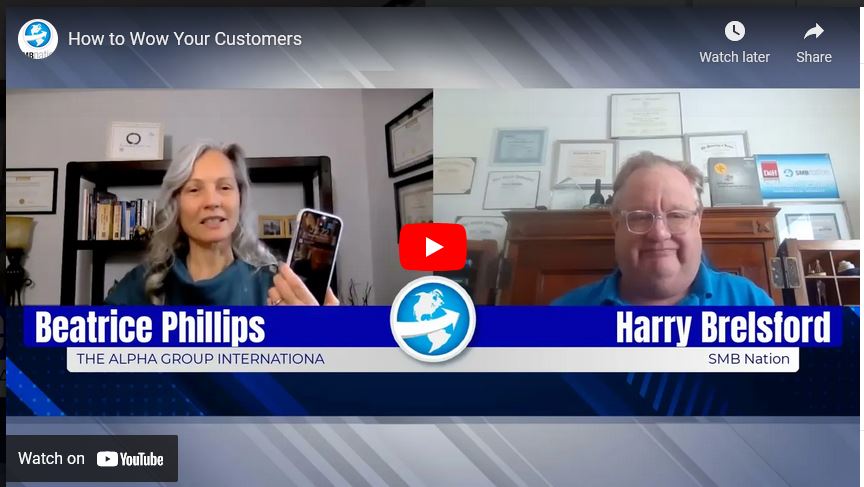 Video Transcription
Harry Brelsford
Hey nation nation back with Beatrice Phillips out of Florida. Beatrice, you're saying it's cold, and it's 79 degrees out there. What's up?
Beatrice Phillips
That is cold in Florida. So sorry, I know, I've acclimated. Like, can I say,
Harry Brelsford
there we go, Hey, this month, we want to talk about how to wow your customers, because you're, you're doing a few different things, which is really cool. You always have you, you kind of invented the phrase side hustle, you always got two or three things going on. And that's a whole nother podcast. But, um, let's talk about Wow, and your customer. What are your thoughts on that? Hmm,
Beatrice Phillips
it's funny, you mentioned side hustles. And my mind just went off to something else. But I'm not gonna talk about that today. Um, yeah, well, I'm your customer. So we had a discussion not too long ago. And so question to you, Harry. When was the last time you bought a product or received a service where you just went? Wow, this is really cool.
Harry Brelsford
Yeah, it happened just the other day for a friend out here in Dripping Springs. So went by a tire store, local tire store, and they will fill your tires up to 38 or 36. For free, you just drive up, you don't got to go to a gas station and feed quarters. That's a service they do. Okay. And then I thought, well, that's really cool, right? I don't have to bend over. And they just run around and do it properly. And then this friend, the right tire on the driver's side, had some mold on it if the tire was faulty, and it could blow out, right? It was trying out and she took it in, and they matched the price of Walmart, if you print out the Walmart bid, they matched it. And this is a smaller store that doesn't have that kind of volume and profit margin. So wow, on two fronts. Wow, you can just drive up and get your tires filled to 38. Very comfortable. And then wow, they match the price. So that's my Wow, wow.
Beatrice Phillips
Oh, I love it. I love it. Because a lot of people don't have about experience, but what you just talked about is something that actually doesn't take a whole lot of effort on that gas stations part. Right. So yeah, they have to have someone out there. But I want to take you back a couple of years. Do you remember before we had these things? No. We were just excited when when when we had our first modem and it did like you know 9600 baud.
Harry Brelsford
I remember 300 baud. Myself,
Beatrice Phillips
I remember my first modem still actually had a dial on it, like on a rotary dial on a phone actually on the card that you attached in a computer. But anyhow, um, think back like early 2000, mobile phones, were just coming on the market. And you could wow your customers by going, hey, I can get you get your email on your phone, right? And that would just sell for you. And look at how far technology has made an inroad that things that like with our phones, something about us 20 years ago, now, it's just a plain commodity. Right? Especially when you're an MSP, for instance. We are how what can you do now to wow your customer, you know, cloud service, everything, it's become a commodity. And I had, so I have my dentist and interpret the dentist office you have like, you know, so okay, I'll just talk about my dentist. When you go to my dentist office in the lobby. They don't have like the regular chairs. They have like a couch and a reading chair. And it looks like someone's living room. They have a bar, not move balls, just move like teas and coffee and you can make yourself a cup of tea. No, they have the high end tea is not the one out of the bag that you get from the grocery store. But like the really nice fancy teas. And then when you get seated number one, I've never have to wait more than five minutes literally, to get into the room. And then each room is themed different. They have a astronaut room with like astronauts hanging from the ceiling and stuff and Star Wars theme. They have a music themed room, and then when they put you in the seat to check your teeth. They go on would you like to have an essential oil to help calm you down? And then they do this acupressure thing on your hands, you know to you know, and then they go oh, here Did you? Did you want to listen to your own playlist? We have some earphones for you, and what kind of service you know, do you get any more? Nowadays, everything's been so commoditized and the idea is like just look around just like the example that you had something really simple that you can do wow your customers? Yeah,
Harry Brelsford
yeah, it just really stood out yet again. Can I go to the carwash and feed quarters? I get there, I certainly can't. Here's the problem, I got to go to the grocery store, get a little cash back to get the quarters to feed the air. Ah. And then you always feel like you're running, right? You put a buck and a half and it's like, you run from tires because you don't want it to run out. So
Beatrice Phillips
then, so it's a convenience thing, but like, think about Uber now you can you can play your own music, like Uber and Spotify got together. So you can play your Spotify list while you're getting an Uber ride. Right? And so it's just generated discussion and we just talked about in general, because so much has been commoditized in order to wow your customer nowadays is actually to come back and be personable. And write handwritten thank you notes, for instance, or pick up the phone and call them I know crazy idea.
Harry Brelsford
Yeah, yeah. No, what's, what's old is new. Or same as it ever was. Remember this, there's a rock song, same as it ever was. But what I mean is circling back to the way we used to do business and hopefully will in the future. Well, hey, we're about out of time. So we'll, we'll see you next quarter. We'll check it on the I understand you have some new things going on. We'll talk about that.
Beatrice Phillips
Yeah, in the meantime, think about what can you do to wow your customers. See ya