After a year of changes many business owners are pondering their dreams of deals after a record year for global tech. With the major changes and disruptions that took place in 2020 and 2021 many companies have not only innovated but created opportunities in the market. With so much technology adoption,
and companies still embracing technology in all forms there is no turning back, however, a lot of support is needed for businesses to succeed. With the ever changing landscape, and MSPs needing outside help to keep up some are turning to M&A. We meet with Jamar Freeman who shares what he is seeing in the industry.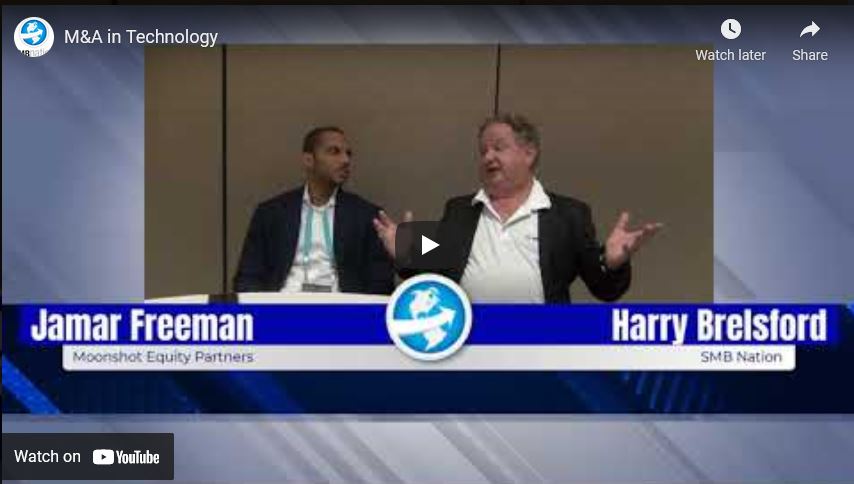 Video Transcription
Harry Brelsford
Hey nation nation, Harry, here IT Nation in Orlando. Yeah, where am I? But I'm with Mr. Freeman, how you doing?
Jamar Freeman
Hey man. Great. Great.
Harry Brelsford
All right. So tell us a little bit about yourself. I know you have an interest in project management, but now you're kind of in the tech space. What? Talk to me. So I actually
Jamar Freeman
started out as a programmer, yeah, program FPGAs. So actually, some are born with some of our clients. Oh, sure. Sure. Well, you know, a lot of the chips in airplanes. So I was in a, you know, in a support role, you know, programming chips. This happened with technical support with the issue that they had. Yeah. I kind of wanting to get out of that into software. More to it space. Yeah. So that was back in Colorado. Oh, wow. To uh, well, my son, mom, she's an Air Force. So we moved here. And then I actually gotten to the state of Florida. Yeah, forgot.So yeah, we actually moved here and actually got to IT project management and delivering we're actually technology all over, you know, five different countries. Yeah. So got out of that, because I wanted to kind of get to healthcare, and you know, something that means more meat more. I mean, meant more to me. Yes, sir. Um, as opposed to just deliver technology. So I started developing software and deliver it, you know, services and things around that. For in the healthcare sector.
Harry Brelsford
Yeah. Yeah. So well, so fast forward the movie, moonshot, equity partners. Yep. And I'm actually on the board just crossed over one year and your board of directors. Thank you. It's been a, it's been a great journey. And I'm looking forward to more exciting, right? What, what's your investment thesis? What do you guys do?
Jamar Freeman
So what we do is we are buying and building, and then of course, selling at some point Catherine billion to a certain point, and technical technology service providers. Yep. So the MSP, and so on.
Harry Brelsford
Yeah. That's great. And then are you just limited to the state of Florida? Are you having conversations with larger, you know, geographies.
Jamar Freeman
The footprint is actually starting here. But we're actually looking to, you know, expand outside of Florida, because, you know, I'm here. And a lot of our partners are here in Florida as well. But we're actually talking to a few MSPs and technology service providers outside of floor.
Harry Brelsford
Yeah, without any names. Maybe can you give an example of one or two conversations you're having? And I understand they tend to be confidential in nature. But, you know, do you have the the married couples getting divorced? And it's time to sell the firm? Or, you know, what, what do you see it out there?
Jamar Freeman
Well, actually, it's a, it's a little bit of, it's a wide range, you got older guys that are that are looking to get out. And we actually have some deals that's in progress. Now. The word young he like, you know, a couple guys in the mid 30s, you know, a couple million dollars in revenue. And actually, you know, they took it to a certain point, and again, by the symphony, looking for some outside help, which is what we provide to scale it up to the next level. Yeah, yeah. Yeah. That's a little bit all over the place.
Harry Brelsford
Yeah, absolutely. Well, I've learned a lot by working with Yeah, you know, I didn't have a strong m&a background. So you know, the pleasures been on mine. It's like getting a pre graduate level education.
It is.Exactly. And you know, what's interesting, and I'll end on this, but what's interesting is that window that's open, you and I attended some of the m&a Lectures here at IT Nation. Yeah. And I'd only confirmed what I know to be true. I don't know if it's the cheap money in the economy, if it's the strength of the MSP business model, but it's red hot right now.
Jamar Freeman
Any any thoughts on that? Well, that, you know, typically, because the deal of that we're looking at, you know, typically no One Million to $10 million ring. Yeah. When this smaller scale, they don't have the capacity to support the clients, right, because now it's come so complex to provide the security and the services and who wants to take that risk? Yeah, you know, so they, like I got to either go to stay in and have a huge risk of, you know, a huge liability, right? Yep. Or I get out right now. You know what I can and kind of get something for it.
Harry Brelsford
Yeah. Yeah. All right. That's my experience. No, I appreciate it. Well, good times ahead, folks. We're gonna have more chats with you say quarter with quarterly. We need to do a check in and if you are interested in a conversation with us, reach out to me, you know how to reach me, but we can certainly have that conversation. If your investment thesis is in alignment with Working with a moonshot Thank you
Jamar Freeman
Thanks