The Backup Bible for MSPs is a free eBook written by veteran IT professional and content writer Eric Siron. Download your free copy now. The following is a foreword for the book written by SMB Nation Founder and CEO Harry Brelsford.
To serve and protect customers is what motivates and drives successful Managed Services Providers (MSPs). In a time where infrastructure hardware and software have attained operational maturity, that allows sophisticated MSPs to focus on high-value tasks such as backups and disaster recovery strategic planning resulting in the execution of best practices. And that's what the The Backup Bible by Eric Siron is all about.
In reality, Siron's book serves two masters: MSPs and IT Pros. But as an MSP community leader, I view it as creating the strategic framework and action plan for service providers such as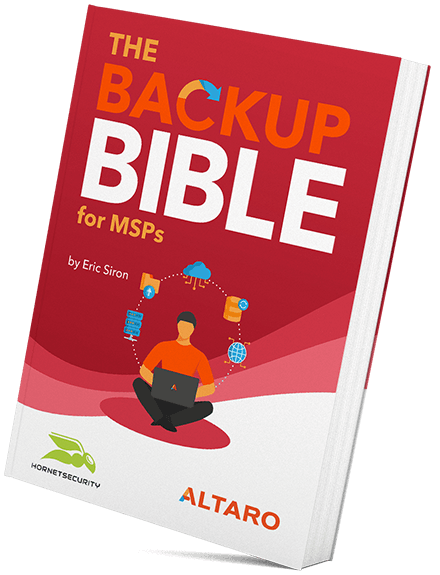 MSPs. Personally, I like the journey that Siron took me on when I reviewed the book. It's a top down format starting with the "strategy" then working all the way down to what I call "verbs" that are really action oriented tasks.
A few shout-outs to impactful sections of the book. In Chapter 1, Siron leads with a Disaster Recovery Checklist that is akin to Standard Operating Procedures (SOPs) that wise MSPs adore because the solutions are scalable and replicable in their customer portfolio. Siron weaves in a behavioralist dialog across the tome but I especially liked the section on Negative Attitudes Toward Disaster Recovery Planning in Chapter 2. Chapter 4 is where I got my "geek on" with advanced technical conversations about fault-tolerant systems, high-availability, clustering, and asynchronous replication. In short, Siron keeps the relationship in balance between the book and the reader with both business and technical prose.
I reached out to one very successful MSP, Anthony Oren (Nero Consulting in New York City, New York). He created Nero over a decade ago focusing on backup and disaster recovery and built his business from there to expand into cybersecurity and other fields. He viewed the book as a business plan for MSPs just starting out or hoping to convert over from the break-fix business model. I concur and proclaim to the readers to "be like Nero!" when reading and implement the advice in The Backup Bible for sure.
Something Oren took away from the book is that the user is the weakest link in backup and disaster recovery scenarios. As mentioned in this book, a business can and should leverage all the latest and greatest backup technologies available. However, a great backup system is a process and not any single tool mostly because there is a lot more to backup and disaster recovery than just backing up or restoring files that were inadvertently deleted. Like most industries, MSPs should believe the mantra that the "customer is always right", but unlike most industries in IT this does not translate well when customers' computer habits are wrong! IT folks should assume end users have good intentions but IT professionals also understand that every email that flows into a user's inbox is just a few errant clicks away from them falling for a phishing scam that propagates a malicious software that can potentially encrypt an entire network. Ultimately, it's the MSPs responsibility to layer their
defences with proactive remote management, timely patching, and most of all having multiple backup methodologies in place to keep Bob from Accounting from opening that malware-laced spreadsheet attachment he never asked for but will open anyway.
Bottom line: backup and DR are core services for MSPs and must be done right. Read this book in chunks to absorb the full context of The Backup Bible and enjoy serving and protecting your customers!