Hear Ye! Hear Ye! Want to participate in the small business community as a good business citizen plus be entered into a contest to win a $1,000 pre-paid AMEX card for your holiday shopping pleasure? Then read on! Small Business Saturday is November 24th and is a long-standing worldwide event in the same category as Black Friday and Cyber Monday.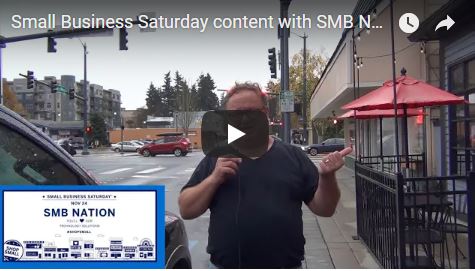 SMB Nation is proud to announce the Small Business Saturday contest for managed services providers (MSP), resellers, channel partners and 'puter guys and gals! This is your chance to be a small business champion down on Main Street – supporting small businesses including your existing and new clients.
The first step is very simple. Fill out the contest enrollment form HERE.

You will then receive an email that has you complete a few additional steps including participating on November 24th as a bona fide small business advocate.

It's all in good cheer and a lot of fun along the way.

We appreciate the support from SherWeb, a community sponsor, for assistance in making this contest possible. If you are not familiar with Small Business Saturday, you can discover more here. Remember that Small Business Saturday is November 24, 2018.

Thank you for supporting SMB Nation and small businesses everywhere.

Click HERE to join the Small Business Saturday contest for 2018.

One luck MSP/partner/reseller will win the $1,000 AMEX pre-paid card but there are several other prizes too!
In order to participate in this contest you must have at least one physical (or online) business location within the United States and/or the U.S. territories.