Over the past few months, I've teased you with forthcoming changes in the world of Jamison West. He essentially divested
his MSP practice business interests, sold his Seattle home into a strong market and moved to Las Vegas with his family (pictured). It would be easy to assume it was the record setting monsoon season in Seattle that caused his move to fun and sun but it's more than that.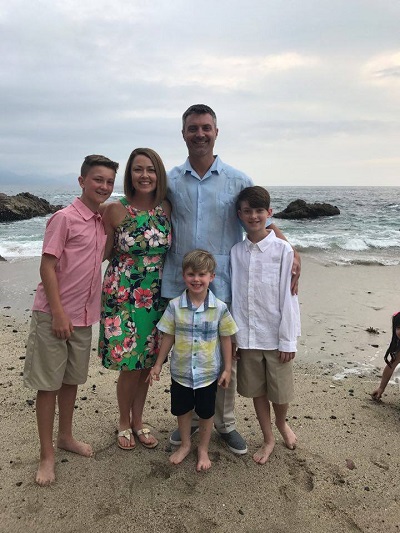 So it's time to let the cat out of the bag. What's the story with Jamison? With life changes afoot, West is the new CEO for Teamatics. It's kinda like Myers-Briggs meets Slack. To level set, Microsoft Teams is the competitor to the wildly popular Slack. It represents Microsoft's latest endeavor into the malleable world of collaboration (following similar positioning with Yammer, SharePoint, Skype messaging and so on). Slack largely created the latest generation of collaboration with what started as a IM tool for gamer developers and was validated but serving as a rapid development environment for the reboot of the Healthcare.gov web site. I view Slack as an internal email replacement to keep my Inbox free. I'm using Microsoft Teams as well but it feels more like a document storage corpus to me (say SharePoint Jr.). Admittedly I've only been using Microsoft Teams for five months and it only recently was officially released so the Microsoft Teams journey continues.
West is leveraging Microsoft Teams as a "new platform for developing human capital and improving team performance." His firm Teamatics strikes me as one part Myers-Briggs, one part peer group/living theology and one part technology. I'd first and foremost define this as a services business, not a product line. West's calling is and has been for some time to help others ad this new venture allows for that.
Of the launch, West said, "In my 20-plus years of managing teams and leaders of teams I've struggled to find a simple, accurate way to ensure talents are aligned to objectives and that the team is aligned with each other and to the culture of my company. I am thrilled to be part of a new team that has done incredible work to solve that problem."
I'll continue to monitor this startup.
UPDATED: Let me know if you thing we should weave Jamison into the fabirc of our upcoming six-part MSP Tech Talk series? He is a frequent speaker in the SMB MSP channel partner community. Hmmm...