With security threats on the rise (there has been a 300% increase this year in ransomware attacks), many small and medium businesses are concerned they may be next. To address this concern Microsoft has designed Microsoft Defender for business which is an new endpoint security solution that brings enterprise grade security to small and medium businesses.
The best part is Microsoft has made it cost effective. We meet with Alex Fields who has been assisting Microsoft on this project as he shares some of the features we may see.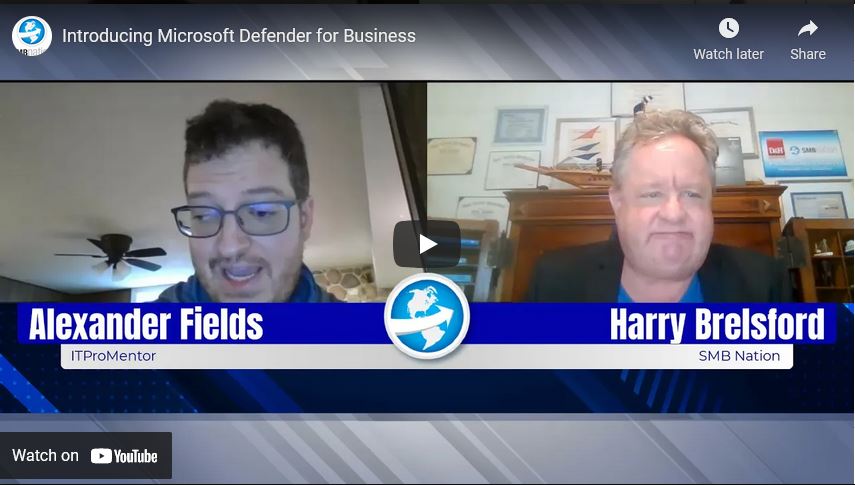 Video Transcription
Harry Brelsford
Hey nation nation back with Alex Fields. You sit in the great state of Nebraska.
Alex Fields
Yeah, yep, sitting in Nebraska right now we're actually just about to head out to Wyoming after this over the next couple of weeks. I'll be just west of here a little ways. And then I'll probably be back for the next time we talk. So I'll be back here in Blair. Wait, last
Harry Brelsford
time we talked to you, I can't move for on camera or not. But you said there was an exciting announcement coming, you weren't able to share anything more. But now the announcements here, it looks like introducing Microsoft defender for business. I'll turn it over to you what's going on.
Alex Fields
And this is probably the largest announcement to come out of Ignite for the SMB. I mean, this is really big. It's it's definitely the biggest thing that's come to the Microsoft 365 Business Premium SKU since probably Azure AD Premium plan one dropped. And so yeah, it's, it's just really exciting. So basically, what we're seeing here is that we get the full endpoint security solution from Microsoft, or almost the entire defender for endpoint is been repackaged for defender for business. So you have the EDR capabilities, attack, surface reduction, threat and vulnerability management, a lot of the really great features from IE five have been brought down into that business subscription for us. And that's just totally cool. And of course, it's packaged in a way that is even a little bit more consumable for small and mid sized businesses to use. So yeah, we're really excited about that. It's not available yet, but it's coming very, very soon, there is a webinar that will be on the 18th with some more information on that. And I will be participating in that webinar with Microsoft, because I've been kind of helping them, you know, from an outsider's perspective, so to speak, and just how you know how to, you know how to package it and market it for the SMB basically,
Harry Brelsford
yeah, yeah. No, this is big news. And I'm looking at Hang on a second. Well, I kind of take a peek here at this thing. Let me see. So we have threat and vulnerability management, attack, surface reduction, next generation protection, endpoint detection and response, auto investigation remediation. So this, quite frankly, and with all due respect, that this this would be Microsoft having a competitive response to like a Cronus. In their suite and some of the others. Does that make sense?
Alex Fields
I think there's a lot of endpoint security vendors out there, you know, who would probably be a little bit nervous if they're selling EDR products and stuff like that in the SMB space, when they see this announcement? Yeah, I mean, I think they are. It's, it's a fairly competitive product. And it's what's I think most surprising here is that it's not just like an add on, they're actually throwing it into Business Premium, which is already one of the most widely deployed skews in the SMB. So in other words, you're basically just getting it for no extra cost. And so that is fairly interesting. That doesn't mean that, you know, there's not opportunity for third party vendors. But it just means that, you know, you you have to do more to differentiate yourself now, for sure.
Harry Brelsford
Yeah. And with the SKUs. So the 365, SKUs, we get e three from Action Pack, will I be able to get this?
Alex Fields
No, it's only included with Business Premium. Or you can get it as a standalone add on for for subscriptions that do not have Business Premium. The E three, subscription includes something called defender plan one and endpoint plan one sits just beneath the defender for business, there's not quite as many features, you don't get the EDR capability, for instance, but it does have quite a few of the features. So you can still get back through the three. But yeah, this defender for businesses, sits right between that and then plan two, which is included in the five which has a couple other features in it like access to threat experts and stuff like that if you want that service from Microsoft, so yeah,
Harry Brelsford
yeah, and it looks like the we're gonna put the link to the announcement in the blog below. And also, there's the link to the webinar. So folks, if you see this in time go to the webinar if not they typically have a you know, on a replay on demand thing. Finally, Alex, how is ignite going online? I dug down into wishes some in person, but how's it going? Yeah,
Alex Fields
yeah, I know, I wish it was in person too. I'm really hopeful that next year, you know, hopefully by then we'll be able to do another in person Ignite, but it's going well you know, I mean, the the that's the biggest and that's the announcement, but I'm keyed into the biggest I'm still catching up on some of the other content. There's some interesting compliance announcements and so on that I'm looking forward to. And of course, there's always renaming. So there's been like things remained again. And we're trying to keep up with that. So Cloud App Security is now like, defender for cloud apps or something. And I don't know it's Azure Sentinel is notice Microsoft Sentinel, somehow they didn't get the defender moniker in there. But anyway, it's half of being an MVP, I think is just trying to figure out what the latest names are for things.
Harry Brelsford
Well, I'll tell you what, keep up the good work safe travels to Wyoming. Yes. All right.
Alex Fields
Thank you, sir.
Harry Brelsford
Yeah, keep us posted. This is really good. This is a real meaningful podcast. Thank you. Yep.