At the recent SpiceWorld 2018 conference in Austin, TZX, I interviewed Erick Kron, a security awareness advocate at KnowBe4 – a well-respected phishing security solution vendor. We discuss it's new Virtual Rick Office (VRO) Kron discusses how this is a whole new way of looking at your users security risk behaviors.
Listen to the PODCAST HERE!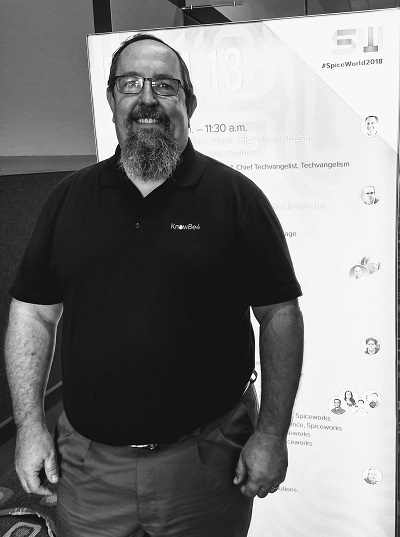 "VRO can visualize individual risk behaviors and group risk behaviors." States Kron in the podcast (ya' just got listen up). "We're using artificial intelligence ( AI) to develop and update the solution. Bottom line: we are using VRO to determine "who your next clickers are" and our partners can roll this out to clients today." Said Kron.

And what's the tie-in to Stu Sjouwerman, CEO at KnowBe4? Back in the 1990s and 2000s, Sjouwerman had the Win2K newsletter that was north of 500K readers. He often wrote about Small Business Server (SBS) and SMB Nation. So we're thrilled at his latest success – well-deserved. And we're now alone – Goldman Sachs recently made a BIG INVESTMENT in KnowBe4. Managed services providers (MSP) should consider such an investment.