Wise minds are always innovating. That's exactly what's occurred with long-time SMB Nation member Grace Schroeder (remember the Idea2 CRM?) with her new company Slingr.


Schroder and team have launched a supporting actor application in a category I just made up called SMB channel partner ecosystem extenders. Essentially Slingr found a gap that needed to be filled. In particular this blog concerns Slingr's integration of Slack to the Autotask professional services automation (PSA) solution.
I spoke with Slingr executive Thomas Beck at a recent cloud computing event in the Seattle area to learn more. "Essentially Slingr is a low code, high productivity application platform as a service combined with an integration platform as a service capability. Our value proposition is that you can build and integrate apps much more efficiently than starting app development/integration from scratch." Beck shared. "We're so efficient that , on average, you save about 80 percent of time on labor and resources when building from a platform basis versus the alternative of building from scratch."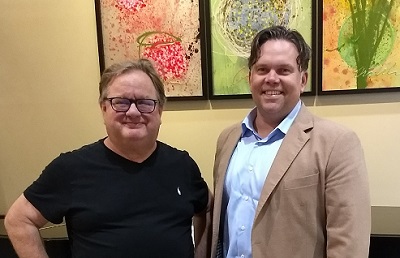 With Thomas Beck (right) from Slingr.
Autotask Integrations with Slack
I asked about Slingr's new Autotask/Slack integration solution. "We build a lot of apps and integrations for our customers. Sometimes we have ideas or requests from customers like 'Hey – we wish this was something that did this' and one of those requests came from a friend in the MSP community who shared a lot of MSPs are using Slack and Autotask." Beck said. "The basic request was could you make Slack and Autotask work together. We determined it was a broad enough market profile and that exactly what we've done: integrate Slack and Autotask."

Okay. I asked how would I use the Slack/Autotask integration in the day in the life as an MSP? "Think of it this way. If you use Slack, you tend to start living in it; Slack becomes your windows to the world. You stop wanting to get out of Slack and you don't want to swivel chair to another app to get something done because that's inefficient and loses productivity." Beck shared. With the Sling bot for Autotask/Slingr integration, you can do 90% of what you need to do in Autotask by staying inside Slack. All within ten commands. You can open, assign/reassign, check and fetch tickets, etc. all with in Slack.

Get the App and Costs
Download from the Sling.io app store.
Free ten (10) day trail
Costs are $9.99 per user per month

Roadmap
I asked if the Datto acquisition of Autotask has impacted the integration. "No – nothing has been broken." Beck said. "Everything is still full operational. Based on the success with the Autotask/Slack integration, we expect that we'll expand into the other PSAs such as ConnectWise. Everything is driven by customer feedback."
Finally, I asked how MSPs can work with Slingr? "We do have a partner program for MSPs that want to work with clients. Take an two or even ten applications and you can partner with Slingr to build integrations. We can work with the MSPs and clients to be an enabler on digital transformation. All in the cloud; partially in the cloud, etc." Beck stated.