It's been quite a while since the smartphones, whether the android smartphones or Apple, have not been producing anything special. Looks like in the past few years the only thing changing in the new smartphones is the general look of a phone, and the companies produce a better camera with every successive phone.


So, how will the smartphone future technologies be subject to change or what should we be expecting out of them?
Well, considering the smartphone market in the world of today, it seems like perhaps the Samsung amongst all android smartphones might be able to produce something new by the year 2018. Here are some expectations we have from the upcoming smartphones in the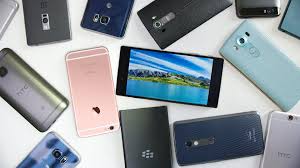 following year.
New ways of unlocking:
Keeping under consideration the Samsung Note 8, it unlocks through a finger scanner and an eye scanner at the same time. Although several customers have complained about the finger scanner being at a silly place or the eye scanner hardly working, we hope that in the upcoming Samsung android smartphones, these problems will be fixed and the accuracy of the phones will increase.
Facial scanning sounded almost impossible to us, until this September, when Apple announced that their upcoming iPhone X will be unlocked through facial recognition for higher privacy rate. We hope android phones will introduce this technology as well.
Better displays:
The Note 8 has a display unlike any other though, as it uses an OLED display which can be made thinner, brighter and lighter with a better color accuracy and better contrast than the previous display being used, the LED. The iPhone X also uses the OLED display, leaving the LED behind.
The phones that will be launched in the coming year will probably try to catch up as soon as they can, and will definitely get the OLED display as a distinct feature of their own as well!
Better Battery life:
Better battery life can be expected from the upcoming android smartphones of the year 2018. Have you heard? The iPhone X second edition to be released next September, will be the size of an iPhone 7, however, it is believed that it will have a battery life which will run for as long as 2 days on full charge!
Go completely wireless:
We're expecting that we will be able to charge our phones wirelessly soon. Wireless charging technology is already available and in use, however we still need a charger (charging pod/dock) and phone needs to be "put to charging". Imagine that simply by walking into a room with such "power router" you would start charging your smartphone. Breaking and losing our wires, or having our plugs get fused is just tiring now. And while we're at it, we also expect to see wireless ear pods in the smartphone future technologies.
Holograms:
It is hoped that the new phones will have holographic displays. You can have a 3-D display in front of you, so that you can experience and look at from all different positions physically. Holograms today sound like "Star Wars" technology, but they might be closer in future than we believe.
It is believed that perhaps the smartphones have now reached their peaks and new technologies can no longer be introduced. However, these small improvements and changings would introduce a new era to the smartphone technology.
Written by: Jeffrey Ulrich, CEO, Chinavasion Wholesale Ltd., tech and cool gadgets enthusiast, creator of the Chinese e-commerce shop in 2004, Shenzhen, China.
For more info visit: www.chinavasion.com