Last quarter I reported from the IBM PartnerWorld Leadership (PWL) Conference 2017 in Las Vegas. Now I want to check-in again on IBM's efforts to transform and improve its channel partner program.
In the Box

Think of a box having four-sides. That is how IBM essentially communicated the
PartnerWorld paradigm to its Business Partners at PWL. I'll tackle each side here but Figure #1 shows you where I'm headed.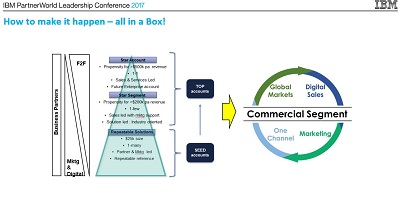 Figure #1: IBM Box
Global Markets. Don't forget that in many ways (IMHO), IBM is stronger globally than domestically in the US. It's a trusted brand when I've travelled to LATAM, EMEA and APAC. I've seen it with my own eyes. IBM's claiming to continue to strengthen its globalization approach with dedicated segment leadership, stakeholder collaboration, strong business unit alignment and optimized buyer group focus. For what it is worth, a significant portion of the attendees at PWL were from overseas. Another factoid was IBM's admission and assertion that it has a 1% market share with plenty of room to grow. I'd concur.
One Channel. Represents IBM's primary route to market in commercial. The channel vision conversation with especially strong with the seismic shifts occurring in buyer behavior driven by cloud, digital, data and cognitive. The client journeys dictate seamless engagement across digital, direct and business partners. My point is this. Granted IBM tends to work more with larger partners (and ISVs like Bluebee, a genome startup I spoke with) and doesn't have as meaningful connection with SMB partners and MSPs (more on this in a moment), the facts surround the customer behavior trends are the same!
In the context of channel, a shout out to IBM for the introduction of new competencies in cloud, Watson and security.
Marketing. I found this area to be very interesting and will spend a few extra minutes on this topic. IBM's marketing strategy is very simple and reflected in Figure #2 below. Marketing is focused on three industries (Manufacturing, Retail, Banking), three professions (CIO/IT, CISO, Marketing) and four IT Products/Services (Analytics, Cloud, Systems and Security). If you get anything out of this blog, let it be this. Approximately 80% of the client base is seed accounts. Translation is that this is the green field for SMB MSPs who want to attach to IBM's motion. You read it here first.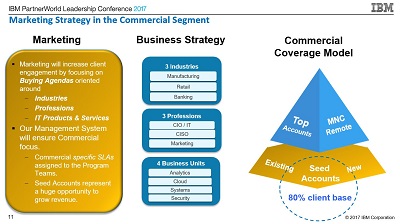 Figure #2: Worth a few hundred words, this one-pager succinctly summarizes the IBM PartnerWorld marketing strategy.
In the context of marketing, this is where I want to highlight two things. The first was my conversation with IBM Cloud CMO Quincy Allen (Figure #3). Basically, we landed on the conclusion that marketing is analytics. And who better to lead that charge than IBM with its huge head start with Watson.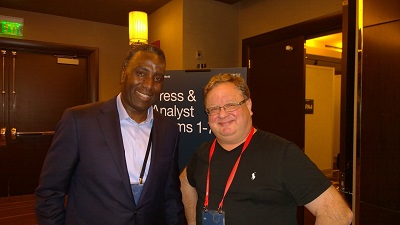 Figure #3: Facetime with IBM Cloud CMO Quincy Allen discussing marketing analytics and how to get business value.
Digital Sales/Business Group. The basic story here is marketing workflow. The concept is a content-based strategy of digital hubs that allow the partner to market from top of funnel to mid-funnel and finally conversion. It has to do with relevant content showing up in search such as "AI for marketing" leading to a related article to engage the customer and convert to a trial version of the offering. To be honest, I'd be surprised if IBM didn't offer this stuff to its partners.
A shout out to the Cognitive Sales Advisor. It's a Watson-based tool to unify partner support.
The Magician
Jamie Mendez, Director at PartnerWorld, is the magician behind the scenes. And I got to meet her! She keyed in on PartnerWorld (which is the partner program, website and engagement model including events) with a "adding value" mantra. "Few partners only do one thing when you look at our partner program model." Mendez said. "We want partners to build something, sell something and deploy something." For that reason, I noticed the PWL conference had a lot more developers that you would see at the Microsoft Worldwide Partner Conference (now called "Inspire").
I chatted about her breadth partner play because my perception has been that IBM doesn't have an SMB play. They do it in a difference form. First IBM defines an "enterprise" as 50-employees or higher. Second – it partners with distributors for its breadth play including Ingram, TechData, Avnet and Arrow.
Final Thoughts
Gotta hand it to IBM for hanging in there long-term. Year-after-year I attend the PWL conference and they are investing in the partner channel. I think IBM is finally on to something with its focus on Watson and IoT. And it was the first time I had heard of PartnerWorld trying to engage audiences at scale.