Wow – I'm continually impressed every time I attend the robust annual IBM PartnerWorld conference as I recently did at The Cosmopolitan in Las Vegas. In a series of articles, I'll share those experiences with you over the next few weeks with my analyst hat firmly affixed. The purpose of this blog is to paint the overall picture.
I'd offer the PartnerWorld Leadership Conference had around 3,000 participants, many of
whom were worldwide attendees where IBM is a strong brand. The theme, "Next is Now," wasfitting as few companies have pivoted as hard and as fast as IBM over the past decade-plus. This time the emphasis was on Watson, it's well-renowned and respected analytical engine that is a category leader. Past conferences have focused on IoT and other topics that took a back seat this round.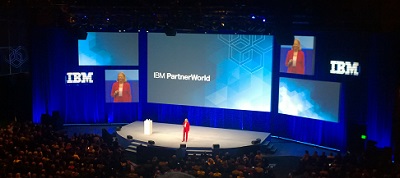 Coverage areas that stood out for me were:
Female CEO – Ginni Rometty. Always a pleasure to hear and I continue to applaud her accomplishments. I'm from progressive Seattle and props to IBM for having a top ranking female CEO turning the ship.
Marketing 2.0. Who better to embrace marketing analytics than IBM Cloud's CMO Quincy Allen. In a future post, you'll enjoy my free ranging conversation with him about Marketing 2.0 as I like to call it.
Customer evidence. I spoke with Hans Cobben, CEO of Bluebee. This is a practical example of applying flexible consumption in a cloud computing scenario with analytics in the genomics area. A must read in a future installment.
PartnerWorld – Jamie Mendez. She directs the IBM partner world and in my interview with her, she offers insights into pathways for IBM partners to have a deeper sense of engagement and greater profitability.
Commercial partners. I explore the four in the box partner engagement model from IBM. Plus insights into new certifications.
Blue Jeans. Finally, the new blue at IBM is tech execs in blue jeans. Love it.

Standby for more. And give IBM another look starting with Watson. Trust me.