About one third of the people in the world are entrepreneurs today. And about half of them are not successful in this fast growing economy. One of the biggest reasons of this failure is because they are handling there business without any mentor or a helper. What do they think of themselves? Superman-The man of steel?
Nowadays, entrepreneurs are focusing more on increasing their business revenue. They want to do all the tasks alone,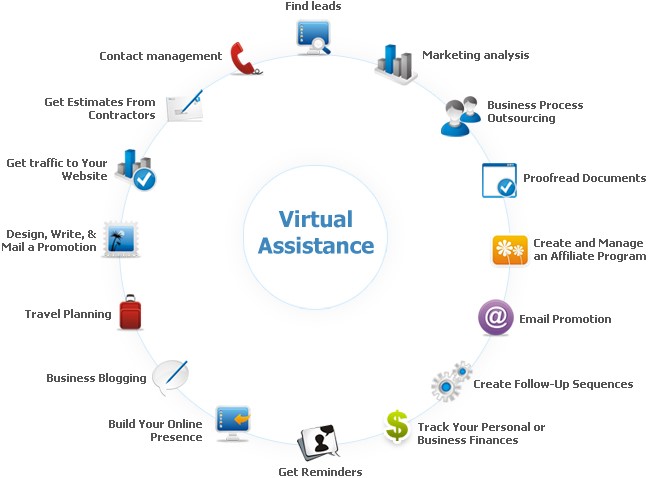 and don't have the time to do it. Then the downfall begins. The only person that can leverage your working hours and help upfront your business is the virtual assistant. There is no harm in hiring a competent virtual assistant, seriously. They become a part of your business and can remove that entrepreneurial stress from you-somehow.
Now, most of the entrepreneurs are oblivious of what and how they can outsource. They didn't know what could a VA do for them or what tasks should we give to them.
Here are 7 main tasks you can give a Virtual assistant to increase or improve your business.
EMAIL MANGEMENT OF FILTERING:
Checking emails again and again in your inbox while doing a hard tasks will probably be a waste your time. A virtual assistant will manage your inbox and respond to most of emails on your behalf. Managing emails is easy but you should provide your account, password and some guidance to reduce the risk of getting an error.
DATA PRESENTATIONS:
Doing the research and collecting the data is a hard process. But turning that data into presentation or excel can be a time waster for entrepreneurs. Hiring a virtual assistant having an expertise in Microsoft programs can give you great benefit of saving time you would be wasting on smashing your head to make a word document or presentation.
BOOKKEEPING:
To hire a Virtual assistant to manage all the bookkeeping like making invoices, recording payments and extra bills is probably the hardest task to give. Because in this, you have given personal information of accounts and password to him or her. But if find a trustworthy virtual assistant, then thank God for this because that assistant will shave your working hours and that billing-paying stress too.
ONLINE RESEARCH:
If you are having a content writing job, you would know how hectic is it to gather all the information by doing research. So why not hire an assistant to find that relevant information. All you need to give is clear and sound instructions and a topic. So, easy, right?