For our new blog series "Community Rocks! Profiles in SMB IT," we spoke with John Benjamin, (pictured) owner of Cavu Networks. Located in
Bainbridge Island, WA, Benjamin is an MSP who specializes in almost any type of IT need that a small business owner requires. Read more to find out how Benjamin got his start in IT, what his personal business philosophy is, and how he came to adopt his pit bull mix rescue dog, Lucie.
SMB Nation: How many years have you been in business?
John Benjamin: My company was first formed in 1998 under the name Benjamin Consulting, which I then changed to Cavu Networks in 2003. With Benjamin Consulting, I mainly focused on setting up wireless networking and public hot spots, which I then folded into Cavu Networks, which currently provides managed IT services for small businesses in the Bainbridge Island, WA, area. We are actually located in the same office park (since 2010) as Harry and the rest of the SMB Nation team!
SMB Nation: How did you get started in this business?
JB: Before I created Benjamin Consulting, I was a tech program manager for sales and marketing at Microsoft for about eight years. It was great, and for the first few years, it was like being a "kid in a candy factory." However, after a while I wanted to try something different, so I left Microsoft to start my own firm. In the beginning, Benjamin Consulting was a single-man IT shop, which focused on servicing high-end individuals and small businesses. I did all of the typical stuff that a high-end residential consumer and a small business would be interested in, such as networking, machine clean up, tutorials, Wi-Fi set up and Windows for Workgroups.
SMB Nation: How many employees do you have?
JB: Including myself, Cavu Networks currently employs four full-time staff, and we also work with freelance contractors for handling technical tasks that can call for a specific skill set, which we might need to supplement.
SMB Nation: What markets does Cavu Networks currently serve?
JB: We currently service small businesses in the Seattle, Bainbridge Island, and Poulsbo areas. We don't really work with private residences anymore unless they were a current, existing customer before we moved our services over to completely commercial. Even though this is the case, we typically end up with that customer on a service contract anyway.
Being located on Bainbridge Island, we have a variety of clients from pediatric and dental offices, law firms, CPA firms, and a company that managed senior housing/assisted living facilities. Probably one of our most unique (and largest) clients is a biotech and protein resources firm.
Interestingly, my children (Benjamin has 9-year-old twin boys) attend school with the children of many of our customers, furthering the community type atmosphere that we promote and maintain within Cavu Networks, and the customers we serve. To me, at the end of the day, it comes down to being responsive, and about being in the right geography and helping customers in a timely manner.
SMB Nation: What types of services do you provide, what do you specialize in?
JB: It's probably easier to tell you what we *don't* specialize in, since there are very few things that we can't do! We actually do everything pretty much standard for an MSP. What we don't do is web site development/marketing, SEO and software development.
We aren't a storefront-type operation, so most of our services provided are on an outcall basis. However, we will make exceptions for longtime (friends and family, as Harrybbb likes to say) customers if they need to drop off a piece of equipment that they would like us to look at.
Occasionally, we will sometimes have a new customer who just happens to "stop in," saying they found us online or on Yelp, and that they are looking for some help, or have a specific question. I recently had an experience like this where a local minister came by, and he was having problems getting on to the Internet. He still had his machine configured for dial-up networking, so every time he booted up his PC, he received a pop up message for AOL. It took me a few minutes to disable this, and I also worked with him on setting up Windows 8. Instead of taking payment from him as a minister, I alternatively offered that he make a donation to the local animal shelter on the island. For me, this was more about helping him, not the money.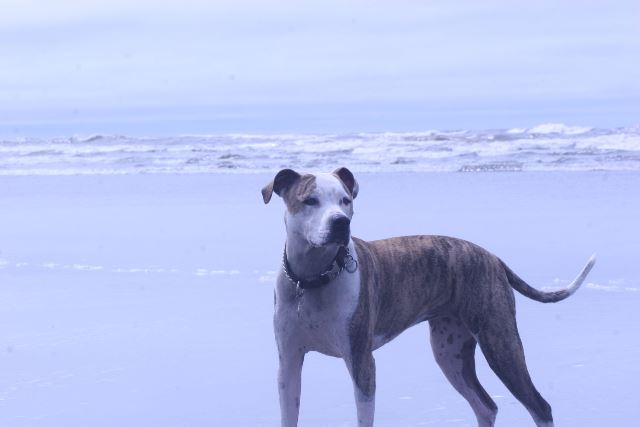 Note: Benjamin's office dog, (pictured at right) a Pit Bull mix named Lucie, is a rescue dog from the local humane society!
SMB Nation: What's your personal business philosophy?
JB: When it comes to my internal business philosophy, I follow the mantra of: "Work hard, learn lots and have fun."
Externally, when it comes to our customers, it's about making sure they are getting the services need, and when we don't know something, we will admit it, but we will eventually figure it out for them. It's about being honest and doing the right thing, and not putting your ego into the game.