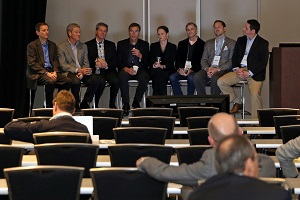 Today at Dell World 2013, Dell released a series of enhancements to its PartnerDirect Program designed to strengthen Channel focus. These enhancements include three new initiatives, as well as updated partner opportunities.
(Pictured: Dell Executive Panel making the PartnerDirect announcement today at Dell World 2013. Photo by Joshua Liberman)
The Dell PartnerDirect Program is now in its 6th year and accounts for roughly 1/3 of the company's revenue. As of today's announcement, the PartnerDirect Program has 143,000 global partners. As some of you recall, the company made an announcement in November that it was combining the channel and direct sales teams into one organization to foster collaboration and customer care, as well as improving the go-to-market model, which allows partners to increase predictable profits and decision-making speed.