Just a short note to invite you to join me in a complimentary 5-session online conference during February 2018. I'm supporting my good friends Peter Jensen, Marie Wiese, Jim Hamilton (Yay!), Julian Lee and Marc Gordon. Discover more about this complimentary conference here. I consider this a startup/start over topic as we should all be educating, transforming and reinventing ourselves – continuously!
Here is the back story. This online conference is based on the Office 365 CSP/MSP community.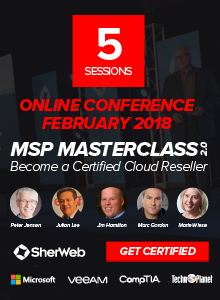 Topics are both technical and business - so something for everyone. In fact, it's entirely reasonable that you might only attend a couple lectures that are of interest to you (e.g. security). or perhaps you are interested in all five lectures. Make no mistake - the lectures are "pure content" and made possible with the generous financial support of Sherweb, an Office 365 CSP.
Want to see if this is the right fit? You can watch a short Accelerate conference video here.
What's interesting about this particular online conference offering is that it's outcomes-based. You will receive a participation certificate at the end of the five lectures. How cool is that?
Again - you can sign-up for the complimentary conference here. I'll see you there (and thanks for supporting the SMB MSP community).
Here is a lecture summary to review!
SESSION 3: MARKET INTELLIGENCE SESSION: TRENDS IN IT SECURITY
PRESENTED BY: JIM HAMILTON DURATION : 30 MINUTES
1 PM EST

As technology becomes a critical component for digital organizations, security becomes an even higher priority. Most companies know that security is important, but they aren't sure which steps to take as they change their IT approach. This market intelligence session, based on CompTIA's latest research, lets you know which new technologies, new processes and end-user education you should be looking out for.
Key takeaway: The three key areas that every business should focus on.