I've used the pandemic shutdown this Spring and Summer to pen my 23rd book. Heck – what else was I going to do? And I did it on the featherweight LG Gram with its 17" monitor. My experience was that the LG Gram exceeded my expectation on so many levels.
You may recall in my first blog on the LG Gram I raved about its light weight, cool running temperature and other first observations HERE.
Da' Book
In May 2020, when I turned on the LG Gram and opened Microsoft Word (from my Office 365 subscription), I was truly excited to start typing. A few highlights included the wide screen allows for the display of the Microsoft Word Navigation pane on the left with the Reviewing Pane (where markups and comments are shown) on the right with the actual document (at 100%) right smack dab in the center!
The long battery life allowed me to write and type all over my house where I spend like 100% of my time! The screen resolution was more than sufficient to display the text, etc. And the fingertip logon authentication is divine when I have a cup of coffee in my left hand and can logon with my right hand.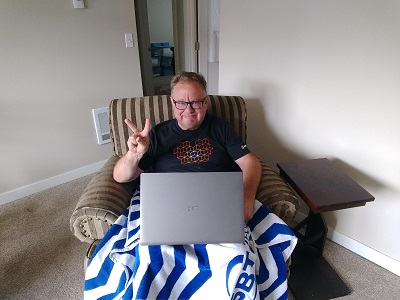 Figure 1: Working ahrd at completing my business technology book for a Labor Day 2020 release!
Tech Tuesday
Each Tuesday I co-host "Tech Tuesday" with Kevin Hunter from Northwest Digital News. We are at the intersection of technology and business topics for a Business-To-Business (B2B) audience. In fact we just celebrated our second anniversary in July 2020! For the past two years, I've used an older laptop to produce the show via a platform called vMix with a high-end external camera and Blue Yeti microphone. But for some reason the past few months, my old laptop started kinda freaking out (e.g. the sound didn't work without a reboot, etc). Enter the LG Gram that worked flawlessly and there were NO audio/visual snafus via the vMix platform.
Bits and Bytes
Oh – and about the book. My book is a 450-page business book titled "The Pocket MBA – Instant Entrepreneur" that will ship Labor Day weekend and is intended for a few readership personas including "Over 50 years old and Fired from Fortune 1000 Companies" and those pandemic-related individuals who were furloughed and laid off and now must start a company to create economic opportunities for themselves.
Feedback
Reader Mike Semel reached out after my first LG Gram blog to share that he owns two of these laptops (one production and one as a backup). "I often double-check my backpack when I travel to make sure I put the laptop inside…it's so light weight that I have to do a double-check!" Semel shared.