Unfortunately, data breaches, and cybercrimes are becoming more and more common. In fact last year was a record breaking year for cyberattacks with numbers expected to increase this year. As cyber criminals continue to invent new ways to attack, and companies paying more than they ever have for fines, legal fees, recovery fees, cyber insurance is becoming more an more necessary. Harry Brelsford of SMB Nation sits down with Marvin Bee to discuss the importance of cyber security, and how it has changed over the years.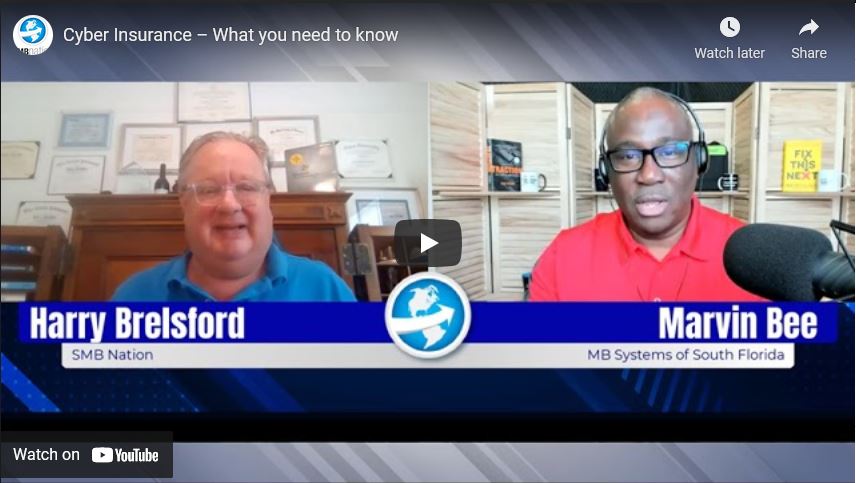 Video Transcription
Harry Brelsford
Hey nation nation, we're back with Marvin Bee and MB systems out of southern Florida. How you doin, Marvin?
Marvin Bee
I am good, Harry. Ha. It's been a while. Yeah,
Harry Brelsford
it's been a while. It's been a while, we need to talk more often. So you said there's a couple changes afoot over in your podcast series or event series, what have you. What's, what's news?
Marvin Bee
Well, the first thing that your listeners probably need to know is that my podcast has changed. It used to be pod nuts, Pro. The focus of the podcasts has stayed the same, but the name is now Uncle Bob's it business podcast. So we got the name a little bit more generic, so people understand what it's about. So of course, it's still about, you know, helping it business owners run their business better, smarter and faster. Yeah, yeah. Good. So
Harry Brelsford
what in the audience is still the same? So MSPs? channel partners, computer people?
Marvin Bee
Yep, pretty much, we did start to branch out into a couple of other topic areas. So we are focused a little bit more in terms of providing series. So we're providing series for business owners that may not always have to do with tech, sometimes it just has to do with, what does it mean to be a business owner? My last episode that we did, focused on the journey, how do we see ourselves in our current state? And how do we see ourselves reaching the end goal, and some of us started our businesses for completely different reasons than why we're running it right now. And 27 years later, in my business, that's exactly where I'm at. Yeah, I
Harry Brelsford
can relate to that. When I got involved in 97, with small business servers, sort of my my claim to fame, we didn't even really talk about channel partners, they didn't even have the word MSP, we were more focused on the product stack, right? That here's this really cool server that, that you can have at it, we just didn't know right at the law firm might have a computer professional on staff, right. And then about, in the early 2000s, it became apparent that this was really a channel partner play Microsoft Partner place, so we had to change our messaging. But the point is this when I started SMB Nation and went on this journey, I really didn't think in terms of, you know, MSPs, and channel partners and all that I got into it, because the product was so cool. And now look where we're all at, right? I mean, a lot of the conversations I have deal with the, the channel. And that's, you know, good and bad, right? It's it's channel conflict vendors, increasing their prices, consolidation, as you're aware, in our industry, we're kind of getting down to just a couple large players, in our industry now with all the acquisitions. And so that's, that's, you know, to be blunt, that's not what I got into this business for.
Marvin Bee
Now, myself included, and you're right, we are more reliant on our vendor partnerships than ever before. And any change that they make affects us and affects our clients. And especially if you've got a client that is, you know, you locked in for a one year or two year deal. And your vendor suddenly, you know, increases your cost by 25%. It may be just a few dollars. But when you add that up to a client, if it's a $500 change, they may say, No, we're not going to do that.
Harry Brelsford
No, no, I agree. Nor nor would I know, I use vendors in the day to day operations of my business. An example is MailChimp. I think my bills gone from 270 to 350 a month now, you know, I'm a media organization with a large list, so I do have to pay something. But that's it's frustrating. You know, I call Jenny on my status and what what's going on? Oh, they just increased their prices. Because they can and the switching costs are so high. It's not that easy to leave MailChimp and go to constant contact. You know what I mean? There's, there's, what do you call opt in email? stuff, right? You can't just move a list over and constant contacts gonna go, you know, did these people really opt in? Right, and that kind of thing. So Well, let's talk about cybersecurity. I think you said that cyber insurance. I think you said you did a recent show on that or you've been investigating that conversation. Yeah,
Marvin Bee
that has taken a nice little turn. And on the face of it, it looks like it is a great thing for us because cyber insurance companies are now telling their customers if you want to get insurance, you're gonna have to do these things and they have actually listed out on their applications, what those things are. And it's kind of interesting. Not only are they listing what they are, they're actually now recommending, and I say that loosely, because it's not that they're recommending, but what they're doing is they're putting together a little cyber glossary at the end of their application. And when they talk about something where well, you should have endpoint detection and response as part of your cybersecurity package. Oh, and here's your common providers. So now customers are seeing the names of the companies we use, and a lot of times MSPs and IPT. Providers, we don't want to give them the name because we may decide to change as part of our package. Yeah, now the customers are seeing, you know, carbon, black cloud CrowdStrike, Falcon inside Sentinel, one Windows Defender endpoint. And they're going to simply say, Well, can we just go with something that's on this list? Because that's what the insurance company wants. And that may not be exactly what they want. But when they give examples, that's what our customers are going to choose.
Harry Brelsford
Yeah, yeah. Yeah. No kidding. That's, boy, we're sure seeing a lot of chatter. Regarding insurance. And you know, your gig going back to my earlier comment, I'm not an active MSP haven't carried the bag in some time. But that alone could have been enough to drive me out of the business, you know, like, whoa, you know, I'm now on the hook for these breaches. And as you well know, the MSP, you know, the one that talks to many as a target, right? So it was Pease are a channel and they have many clients. And if you can penetrate the MSP ergo, you can put a trait the client, the clients, as we well know. And I'd be like, you know, I think it's about time to go buy that franchise for overhead doors and install garage doors. And just write it out.
Marvin Bee
Well, there is that YouTube influencer thing that's out there. You could go be an influencer?
Harry Brelsford
There we go. Well, hey, let's check in. Let's let's get you back in rotation and check in soon with you get on what's news? Any, anything on the horizon? In terms of events? Are you planning to go to some events? Where might we see you.
Marvin Bee
So I do have a couple of events that I'm looking at the only one that I have technically committed to in the IT space is the tech con unplugged. And that is happening this September in Chicago. And I will send you a link for that, that you can include in your show notes as well. TechTRON on and so great little small conference for MSPs and small business providers. And it's one of those very intimate situations where you get to, you know, literally, you know, sit side by side in in the discussions that you have, instead of just being you know, in the audience and having a binder onstage. It's all up close and personal.
Harry Brelsford
Yeah, yeah. I just flew in late last night, I spent the week in my adjacent industry, my startup, I went to the the Zynga cannabis capital conference out of Miami for a couple days. And that was intimate. It's 600 people compared to in our industry. The Big Show mjbizcon is now north of 35,000 people. So 600 is actually intimate.
Marvin Bee
Yeah, that is true. See another event that I'll be at, I'll be at one of the ASCII success summits. They are going to be down in my neck of the woods in October. So I will be visiting that. And then I've got a couple of others that I've been looking at. I just haven't committed yet. We've, it's a busy year. So we've got a family reunion that we've been trying to do for two years. So we think we're going to be able to pull that off this summer. So
Harry Brelsford
all right Marvin.
Marvin Bee
Very nice chatting with you.
Harry Brelsford
Yep.