Time to double down and SAFELY donate hardware to underserved communities during these changing and challenging times. Time to help close the digital divide that is only getting wider in the Covid-19 pandemic.
SMB Nation is orchestrating a late February / early March 2021 technology drive via pop-up event across the western United States in conjunction with Digitunity, a not-for-profit
with 1,400 members that gather used hardware (laptops, desktops) and after refurbishing the hardware, distributes the hardware to under-served communities including remote learners, remote workers, military veterans and other groups. The tour is also enjoying the generous support of Lenovo and PC Matic, and ZPI from Austin, TX is a supporting sponsor.
How Can You Help?
Participating in the Digital Inclusion Road Show is very easy. In each city, SMB Nation will host a pop-up outside with a table and tour representatives for you to stop by and drop your hardware. We carefully follow CDC Covid-19 pandemic recommendations on meeting safely outside and wearing a mask (or two).
Why Should You Help?
If you are an SMB Nation member (or otherwise in a technology field), you have greatly benefitted from the tech sector. And you likely have several devices at your office, in a closet or at mini storage. Go gather the goods and drop 'em! It's the right thing to do and you are helping people with technology needs right here, right now!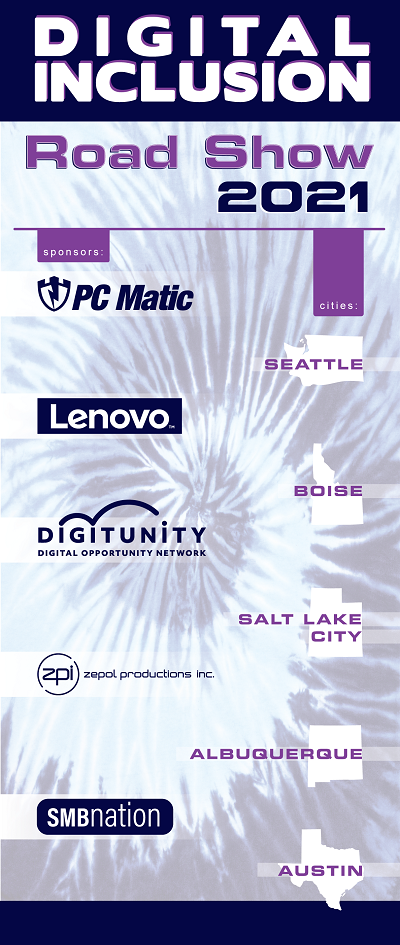 When and Where?
City

Date

Time

Location

Albuquerque

4-Mar-21

Noon-1:30pm

2501 Alamo Ave SE, Albuquerque, NM

Austin

10-Mar-21

Noon-1:30pm

411 W. Main St
Round Rock, TX 78664

Boise

1-Mar-21

Noon - 1:30pm

289 SW 5th Ave, Meridian, ID 83642

Salt Lake City

2-Mar-21

Noon- 1:30pm

Embassy Suites

3524 South Market Street, West Valley City, UT 84119

Seattle

26-Feb-21

Noon- 1:30pm

1109 N. 35th Street, Seattle WA 98103
What are some other facts?
The event is complimentary so just safely come as you are!

There will be handouts and giveaways

There will be pics for publicity and media coverage
"This road trip is a technology drive that helps close the digital divide. The digital divide is caused by a number of interwoven systemic issues. At Digitunity, we believe that everyone who needs a computer should have one. And that device ownership is at the heart of digital equity." Shared Sue Krautbauer, Sr. Director | Strategy and Development, Digitunity. "We believe access to robust and affordable Internet, and having the skills to use a computer productively, are also essential. And the need is very real. For example, one (1) in three (3) African Americans and Hispanics (that's 14 million and 17 million people respectively), don't have access to a computer in their home. Our Digitunity Network, is 1,400 participating and growing nonprofits across the country in all walks and missions of life, working towards getting computers and training and internet, etc, into the hands of people in their community." Krautbauer concluded.
"The need to close the digital divide has never been more urgent, and we here at PC Matic proudly support the mission of great organizations like Digitunity" stated Corey Munson, Vice President - PC Matic.
"It's in our DNA to support causes such as this technology drive. The tour is a natural fit as ZPI is in the hardware maintenance business with distributors, so we get it. I'm especially pleased to assist!" Said Scott Lopez, President of ZPI.
"Lenovo's vision as a company is to provide smarter technology for all" said Libby Richards, community engagement manager at Lenovo. "At Lenovo, we continue to partner with organizations like Digitunity to provide local communities with critical access to technology to help solve problems, create opportunities, and transform the way we all live."
For More Information, contact Jennifer Hallmark at 206-201-2943 x102 or This email address is being protected from spambots. You need JavaScript enabled to view it.
For Media Inquiries and Interviews, contact Sue Krautbauer at 952-451-9792 or This email address is being protected from spambots. You need JavaScript enabled to view it.
For Lenovo Inquiries, contact Lisa Marie Ferrell at This email address is being protected from spambots. You need JavaScript enabled to view it.
For PC Matic inquires, contact Corey Munson at This email address is being protected from spambots. You need JavaScript enabled to view it.
For ZPI inquiries, contact Scott Lopez at This email address is being protected from spambots. You need JavaScript enabled to view it.