Wanna participate in one of the hottest opportunities for MSPs in the roaring 20s? Then discover our two-day ONLINE conference streaming June 1-2, 2020 HERE focused on the cannabis vertical.

Ten subject matter experts in the cannabis technology field will walk you through the seed-to-sale cannabis supply chain
so that you can quickly develop the skills you need to invest forward in this opportunity.
Unique
What makes the cannabis vertical special compared to any normal small and medium business? There are four technology workloads that present unique challenges (and opportunities) including compliance, security, traceability and taxation workflows above and beyond the standard on-premises/hybrid/cloud infrastructure that MSPs know and love.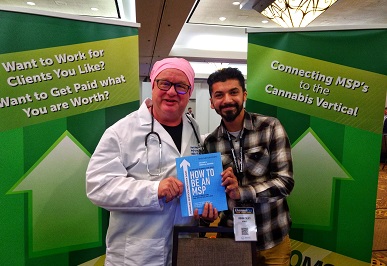 Figure 1: Harry Brelsford talking with an MSP interested in the cannabis vertical at a recent ChannelPro SMB Forum industry event.
Be there at the START, much like many SMB Nation members were with Small Business Server (SBS) in the late 1990s. This will be a decade+ run and represents an amazing pathway to profitability because you will certainly get paid what you are worth (and work for folks that you like).
Why online?
We have created an online content-rich conference with NO TRAVEL, no accommodation expenses and the ability to comfortably attend from your home or office. Suffice it to say we are also mindful of your health and recognize large public gatherings are not advisable at this time.
Who can attend?
EVERYONE! Yes – that means everyone in North America (specifically) and select global geographies can benefit from this online MSP gathering! For example – hemp operations are present and allowed in 47-STATES in the U.S.
MSPs in non-adult use states can provide cross boarder services such as remote management and monitoring, etc. That is completely legal. For example, if you're an MSP in Texas, you could serve cannabis clients in Colorado.
Opportunity!
Good news! The slow rollout in medical-approved and adult use/recreational states (with more coming online every year) means that you have NOT missed out on the cannabis technology opportunity. There is still time to develop your expertise and reputation as you add a vertical to your MSP practice.
Discover more and complete your registration HERE.
Bottom line: Invest forward into this emerging vertical market. We'll see you ONLINE June 1-2, 2020 for two days of jammed packed authentic content.