By MiaCate Kennedey I (Atlanta GA)

I had the recent opportunity to attend #SageSummitUS, in beautiful Atlanta, Georgia this past week, and it was a terrific summit! For those of you that don't already know, #SAGE is primarily an accounting software that goes from desktop to the cloud, bringing solutions to SMB's and large businesses at affordable solution rates that may be less costly than a typical ERP.
Among their many solutions are:
Sage 50 cloud – desktop accounting software connected to the cloud for small businesses

Sage 100 cloud – Manage accounting, manufacturing, distribution and inventory management

Sage 300 – manage accounting, inventory, operations, distribution, and more

Intacct- leading cloud financial management software which is GAAP compliant and AICPA preferred
President Blair Crump, spoke on the opening day of #SageSummitUS. He presented the message that "Sage is going to be more customer-led, partner driven" and that Sage colleagues, partners, and the community, are very important. The SAGE Foundation is doing the right things in terms of the marketplace and in the communities.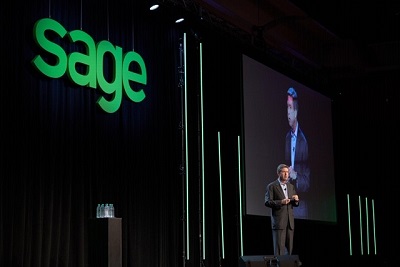 Figure 1: President Blair Crump (Sage)
Sage's USA business is extremely important as 60% of Sage Business is in the USA. The CTO lives in the US. A commitment to keeping focus in the USA was stressed and n the keynote. Sage's President, Blair Crump, gave a shout out to the #AtlantaGeorgia #Peachtree relationship going back to 1981. He spoke highly of the #Atlanta communities and partners.
Sage is moving into the future with a new direction and according to Blair Crump is the "New Sage." This new direction has a focus on customer service with around the clock support, cloud, and a deep desire to build a relationship with its clients that allows them to communicate their needs and desires for future products and innovation . Sage is targeting product side innovation along with focusing on #AI, #MachineLearning, and #EmergingTechnologies, that will help their clients, colleagues, communities, and partners to thrive now and in the future. By adding Microsoft 0365 cloud connected products, SAGE 50, 100, and 300 Cloud, bring information in the field to your fingertips. This partnership with #Microsoft0365 brought Sage up to par with easy interfacing with power absent flow, and connectivity.
Some great businesses already use Sage products including: #AWS, #Microsoft, #Salesforce (who is co-selling with Sage), #Grubhub, #ETSY, #Indeed, and Kayak (uses Sage's Intacct solution). Sage Intacct brings with it great dashboards and core financials.
After a very busy, deep immersion, Partner/Client/Colleague/Communities #SageSummitUS, it's clear that SAGE, with it's new releases and laser focus on SMB's, it will help to shape the ERP industry and will be around for a long time to come.