The Small and Medium Business (SMB) space was shaken about a month ago when Forrester's Jay McBain shared that his research showed approximately 70% of the SMB managed services provider (MSP) field is seeking change in the way of an exit (retirement, getting acquired, getting a job). I believe this reflects the ongoing maturity of the MSP market.

Enter ARG, a quasi-investment and technology entity
that seeks to leverage the MSP exit sentiment to create a national footprint as a service provider. We consider it one to watch.
At the recent Channel Partners Expo and Conference, ARG Co-Founder and CEO Greg Praske discussed how the technology consultant with more than $150M under management will continue to expand its reach and recurring revenues in the coming years through organic growth and portfolio enhancements, as well as a steady acquisition of customer-centric telecom agents and managed services providers (MSPs).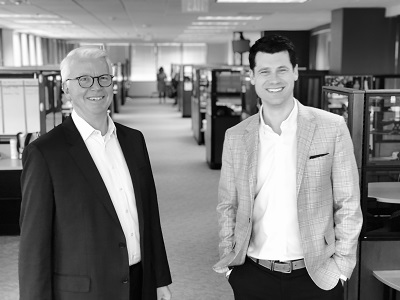 Figure 1: The ARG team!
"Today's businesses generally face three problems when it comes to how to use technology to achieve business goals," reflects Praske. "First, is the overwhelming amount of choice in the marketplace; the second is the ongoing struggle to keep up with the pace of change; and the third – which is a call to action for agents and MSPs – is finding an IT business partner who you can trust."
Since day one, ARG has prioritized making IT effortless and cost-effective for its customers. "At ARG, we take pride in helping our customers use technology to achieve business outcomes, exceed expectations and deliver an exceptional experience across the ecosystem," says Praske.
Demand for great IT service professionals has never been higher, notes Praske, and ARG's business in general and new business pipeline specifically have never been stronger. "We're hiring the right people, making the right investments and have the right processes in place to scale our services and success. Our goal is to provide our customers with "IT Clarity" – enabling them to choose the right technology and establish best practices that will help better build their business."
As part of ARG's growth plan, the firm hired sales and business development leader Mike Shonholz, who was recently appointed to serve as ARG's first Chief Revenue Officer. Shonholz joined ARG from publicly-held IT solutions and services heavyweight CDW where he served as Director and was responsible for executing the growth and management of the company's Aggregation, Infrastructure, & Managed Services business. Under Shonholz direction, CDW's advanced IT services business expanded and grew profitably over a six-year period.
In his role at ARG, Shonholz leads the investment strategy and execution of the IT services firm's two-pronged growth plan which includes organic and inorganic growth.
"After taking an in-depth look at our more than 4,000 customers and growing portfolio of providers, we identified a multibillion-dollar organic growth opportunity for ARG and created a formula for scaling our success through the acquisition of other customer-centric agents and MSPs across the U.S.," explains Shonholz. "Now we're executing against our strategy, identifying acquisition targets and expanding our relationships with our existing customers, providers and partners, as well as attracting new ones nationwide."