Pinch me but it's true. I've been covering IBM for over a decade at its annual partner events, the retired LotusSphere and now THINK. My job is to make sure two audiences keep IBM top-of-mind for what I feel it does best: Analytics,
Innovation (e.g. AI, BlockChain) and its here today, here tomorrow global IT business model. The two audiences are the beloved MSPs in the SMB Nation community and the biased AMZN/MSFT folks in the Pacific Northwest living in the Seattle bubble.
As I do annually, I speak with Jamie Mendez, Director of IBM Partner Ecosystem. You can watch the Interview HERE.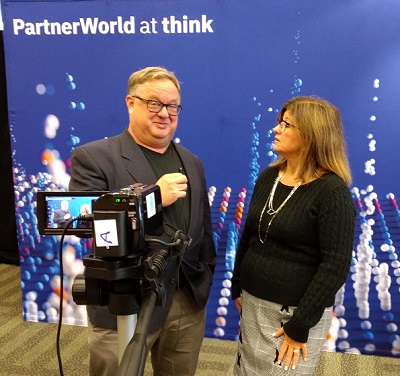 Figure One: Having fun with Jamie Mendez at the Moscone Center in downtown San Francisco.
The topic this year was about a marketing resource for IBM partners that is complimentary called Seismic. This is similar to other marketing-as-a-service, content management system. Basically the vendor (Seismic) is orchestrating the timely and targeted use of a plethora of IBM partner marketing assets (which at times can be overwhelming). The partner then uses these assets in its Finder business development role as service providers. It's akin to other solutions we've seen in the SMB MSP community that are often vendor supported for the benefit of partners.