Join everyone at SMB Nation in congratulating Alice Stevenson, CEO and founder of Geeks@Site, as the first recipient of our grand prize in the Small Business Saturday contest that concluded on November 24, 2018. Stevenson directs a multi-faceted technology solutions practice with niches in
eldercare and support, break/fix, managed services and accounting/bookkeeping!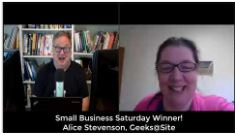 Watch as Stevenson receives notification of her contest success HERE. She completed several steps to emerge as a finalist and a winner. This included participating in the November 24, 2018 holiday itself. Shout out to SherWeb for supporting the SMB Nation community with this innovative contest!




images/stevenson_winner.JPG