In my vid below, you will witness is was a dark and stormy winter day in Seattle on Cyber Monday 2018. Perfect for online shopping in your house shoes all cozy. By the numbers, this Cyber Monday report double-digit growth (again) but the law of large numbers is starting to kick in as we're not talking triple digit
growth.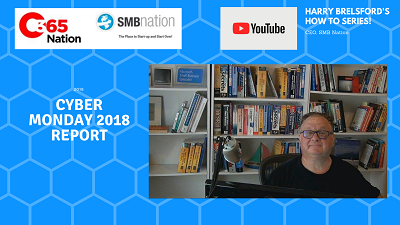 Watch my analysis HERE.
A few factoids for you.
Cyber Monday reported an 18% sales increase to $7.8B (Source: Adobe Analytics and Business Insider)
Avalara – a Seattle-based company that performs tax calculations for online merchants was forecast 58m tax determinations on Cyber Monday
TRIVIA: Largest shopping Day of the Year: Singles Day (China) via Alibaba -> $31B (4x larger than Cyber Monday). Long-time readers will recall former Microsoft "Voice for Innovation" (VFI) director Jonathan Friebert. Friebert recently exited Microsoft to return to Washington D.C. representing JD.com in governmental affairs. JD.com is a super large online market place in Asia with worldwide aspirations. I recently interviewed Friebert in Washington D.C. in this vid HERE.
INTERESTING FACTS: Want to double click down into the numbers for the overall holiday shopping weekend (Black Friday, Small Business Saturday, Cyber Monday). Discover more HERE.
Harry: So what did I purchase on Cyber Monday? At the recommendation of long-time SMB Nation member David Valencia, I purchased two amazing Asus monitors to improve my work productivity and sooth my eyes. In the Fig below, you can see my purchase order from Amazon!



My Cyber Monday purchase from amazon!