Watch a community grow up is like child rearing. Frustrating at time but ultimately rewarding. The good news is that our SMB Nation managed services providers (MSP) partners are embracing the role of sponsors in the community. I call it the fourth leg of the stool
when you look at the events model, such as the recently completed SherWeb Accelerate 2018 confab in Montreal. The legs are: host (SherWeb), attendees (see my attendee interview with Andy Higgins HERE), content speakers (see my interview with Karl Palachuk HERE) and sponsors.
The purpose of this contribution is to highlight two sponsor interviews from Accelerate 2018.
Nerdio – I interview Pete Langass and Tony Cai HERE.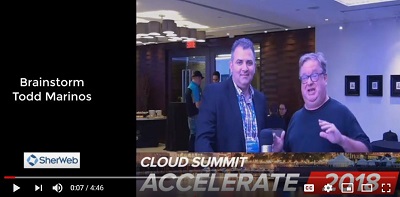 Brainstorm – I interview Todd Marinos HERE.