Where to begin? Let's play the standard who, what, where, when, why and how.


Who – the audience for Smartsheet is primarily IT Pros who work for traditional businesses day-to-day. These attendees would use Smartsheet as part of a job role. Over 60% of the attendees are women (compare to many tech conferences where I believe 90% of the attendees are men).


What – the Smartsheet Engage conference is in it's second year and doubled in size from 1,000 last year to over 2,000
this year. Read my coverage from last year HERE.
Where – it's at the Bellevue Hyatt in the heart of the Seattle-area tech community. It's a five star venue but clearly Smartsheet has outgrown it and will need to seek a larger venue next year.

When – This conference is occurring in early October 2018 and will repeat next year. I will repeat.

Why – that's a big question. The conference is about the Smartsheet product. The audience wants to double-click down into this product that I historically liken to "spreadsheet on steroids." Today the Smartsheet solution has evolved into a supply chain/collaboration tool. I now call it "problem solver" because when you think about it – a comprehensive solution like Smartsheet is deployed to solve problems. A peek into the present and future is shown here below.

Figure 1: Smartsheet here, now and future

How – the conference is clearly for existing users of Smartsheet who want to double-click down into the internal features and functions. After the obligatory vision keynotes, the sessions where just a step above hands-on labs.

And More
In the morning keynote, former Bainbridge Island resident Ed Viesturs, renowned climber, was named as the first Smartsheet Ambassador.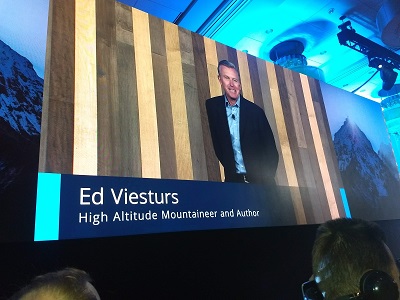 Figure 2: Ed Viesturs

More interesting to me was that one of the prime examples of an organization using Smartsheet was Office Depot. Office Depot was called out for its innovation in a short video and how its deployed Smartsheet enterprise-wide.

Figure 3: Office Depot is a prized customer for Smartsheet

Readers will readily recall that well-known SMB Nation member, Michelle McBain, is a Senior Director at Office Depot charged with developing an MSP program (and it's started the motion with brining an MSSP security solution to market that I covered HERE). Having visited the Office Depot HQ in Boca Raton, FL, I can attest its relationship with Smartsheet is a natural act.
And Even More!
You can watch my Tech Tuesday segement, live at Smartsheet Engage, HERE!