Brenda "Startup" Luper has done it again. Leaving the hallowed halls of Microsoft, Brenda's latest startup is all about teamwork. Her prior startups include project management for technology move-ins and move-outs. Luper was the event manager for SMB Nation 2006 – the first year we played at the Microsoft Redmond conference center.

While laced with technology, Luper de-emphasized that element when we spoke at her early June grand opening party for Reality Break Escapes in tech hub Bellevue, Washington – just blocks from the Microsoft US subsidiary.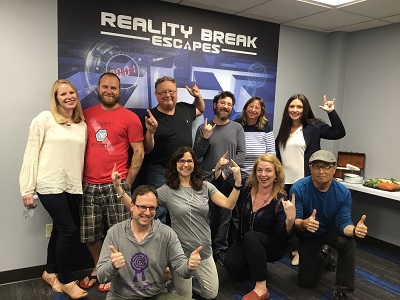 Figure 1: The grand opening gang – Brenda Luper (lower center in grey shirt) – rallying the community!
The focus is a mini-break with audiences ranging from company team building exercises to birthday parties, reunions and more. There are three unique rooms where you work together to combine wits to follow clues and solve puzzles over 60-mins in-room. The rooms are:
Top of the Charts: "What would you do for a #1 hit song? Would you sell your soul for Rock N' Roll?"
Cypherspace: "Can you retrieve the probe before your ship is lost in space?"
Lucky Duck Speakeasy: "It's 1925, the mob-run speakeasy holds the secrets, time is ticking or is it a bomb?"
The paradigm is simple. You and your teammates use your brains to work together and solve your way out of the room. Throw in accruements like a team pic, an events space and you get the pic. More importantly – it's in the lost art category in my humble opinion. I'm constantly amazed at how poorly senior professionals work together in my travels. And the irony is that the higher you elevate in your career, there is less emphasis on your business and technical skill sets. Mid- and late-stage career success factors are (1) the ability to get along with people and (2) the ability to write. Luper can help you with #1 and I can help you with #2 LOL.
My advice for supporting Luper? Next tech conference or user group meeting in Seattle – be sure to have the fun evening event at Reality Break Escapes.