It's been too long since I sat down with Todd Schwartz and Evan Richman, the co-CEOs of SkyKick, the partner-focused technology solution provider. In the past, I could have said "…the migration company" but SkyKick is evolving and I look to that motion to accelerate with its recent $40-million funding round (it's fifth round in its five years life; funding exceeds $65-million now).

We met at its lower Queen Anne SkyKick HQ office in Seattle for a free flowing conversation concerning "what is the story with the $40-million?" Here are some excerpts from that meeting that demonstrates how SkyKick is clearly shifting gears and extending its strategy to move forward from being a one- or two-trick pony.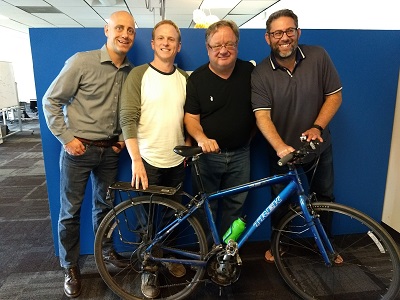 Figure 1: From left to right at the SkyKick HQ: AJ Briant, Evan Richman, Harry "The Cycling CEO" Brelsford and Todd Schwartz.
Da Moola
The funding was from an existing set of patient investors who have doubled-down on SkyKick's future. The investors, according to both Schwartz and Richman, like the space and the SkyKick vision. The purpose for the funds is to invest in all areas of the business: partners, product, talent and locations.
Partners. It's 20,000-plus partners were acquired using a variety of tactics but both Schwartz and Richman contend that SkyKick's support is paramount to its partner success. It grew its large partner base by making partners successful. It's products and services have a great value proposition and filled a need. "We are here for the long-term and automating what partners do. We're getting partners to value their time." Schwartz said. "We provide time savings." "Partners love our support!" Richman added.
Business Acumen. I gotta admit that SkyKick has led the conversation on recurring revenue as a long-term sustainable business model. Schwartz correctly reiterated a well-worn saw that recurring revenue results in up to a 10x greater business valuation. Moving forward SkyKick is using its funding to generate more business skills amongst its partners including sales and marketing support (collateral, kits, services, tutorials and even 1:1 consulting/training).
Product. "We always are continuing to improve and enhance our current products." Richman shared. "We'll leverage our platform for new product development." Both Schwartz and Richman were mum on acquisition strategies for SkyKick, as you would expect. But they did highlight their internal engineering talent as a primary driver for product innovation. The product conversation concluded with a shout out to its relatively new backup service, starting at $2/month/endpoint.
Talent and Geography. I was surprised that SkyKick reports an employee count of only 150 individuals. I personally thought it was a much larger concern. Both Schwartz and Richman spoke towards internal efficiencies, including the very nature of its automated solutions contributing to its lean machine. Other comments included low turnover, a retention strategy based on controlled growth. My last talent question was literally the million-dollar question: Are they looking for a big league CEO to take SkyKick to the next level? Both Schwartz and Richman indicated they are in the co-CEO seat for the long-term, are energized and with all due respect relatively young. On the geography front, Schwartz and Richman stressed that they intend to beef up the European office in Amsterdam with localized speaking employees, local marketing, etc. "Look for us to increase our global footprint!" Richman concluded.
And now you know what I know…harry.