I'd offer in the spirit of the old Pocket MBA program we hosted at SMB Nation several years ago, that a conversation concerning organizational management is always welcome. Think of it as an adjunct instructor from the real world teaching a business class at your college at night telling war stories. Today's lesson concerns promotion from within. I've done it growing SMB Nation (for example, Jennifer Hallmark now in her 11-year was promoted to president four years ago). And Lenovo has recently displayed the behavior by promoting Rob Cato to Executive Director, North America (NA) Channels in early April 2018 (the start of the Lenovo fiscal year). He replaces well-known predecessors Sammy Kinlaw and Chris Frey.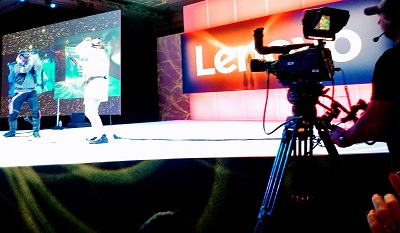 Figure 1: Cato (center dressed i white engaged in a virtual reality (VR) Star wars bettle at Lenovo Accelerate!
To be clear, Cato is his own man on a mission to make his mark in the channel. He has had a career of upward progression at Lenovo since 2005 (previously he spent over 10+ years at IBM). Officially his role and responsibilities can be summed up as "Executive Director of Lenovo's NA Channels business responsible for driving our customer-centric technology, solutions and services with and through our key Distributors, NSPs and VARs. Lead a world-class team of channel sales executives who engage with and maintain key relationships with our 20k+ partners in NA. Help set the strategy and go to market plan including coverage, programs and execution to grow our nearly $5B of revenue that flows with and through our channel partners."
Cato is currently learning his new job and building out the strategy that drives NA business. "Over 85% of the PC and smart device commercial revenue goes through the channel." Cato said. In my blog here, http://www.smbnation.com/big-data-analytics/2565-lenovo-by-the-numbers Cato shared that he has three priorities to UNLEASH partners!
Engage customers (end users and customers). This would be Lenovo assisting its partners in achieving a greater sense of engagement with its customers.
Build commitment and trust with channel partners. Cato wants to make it easy to do business with Lenovo. "Speed should be the differentiator." Cato added. "For example, in pricing quotes."
Smart Growth. "We want to grow our PC and related business ¼ point of market share per quarter. We're currently at just over 13% market share." Cato added.
Be briefly chatted at the Lenovo demo truck known as TechWheels. https://www3.lenovo.com/us/en/landingpage/techwheels/ This is akin to the old Microsoft Across America that used to traverse the country. A couple highlights of that chat were:
Partners can reserve - need to give advanced notice

Seen at partner events, end customer events, etc.

Also seen at specific opportunity events, etc. For example, I saw the truck last year at the Lenovo Accelerate event in Orlando (but not this year in Las Vegas).

Used it for channel partner training
Final Word
"I'm glad to be back in the channel." Cato concluded.