Long-time SMB Nation readers know that I follow GoDaddy as one to watch in the SMB space. I've recently visited its Sunnyvale office (that's the Silicon Valley folks!) and had a follow-up chat with Greg Goldfarb, VP of Commerce and Email Marketing. He shared a couple cool tools just brought to market by GoDaddy.

Scheduling
GoDaddy has hit one of my problems head-on.
As you likely know, there are a variety of third-party calendar services to help manage your time and appointments and allow your customers to gleam insights into your availability for a meeting. I've tried one or two myself.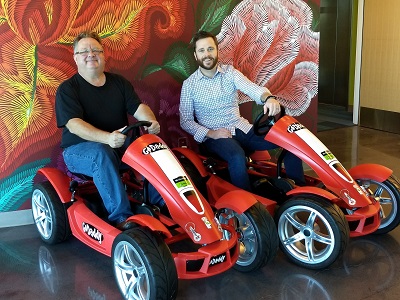 Figure 1: Racing with Ryan at GoDaddy's Sunnyvale, CA office.
But here was the problem. I found these solutions assume you only have one life and one calendar. But the reality for entrepreneurs and millennials surviving in a gig economy is that we maintain multiple calendars (say for your own entity, Client A, Client B, etc.). The aforementioned online calendar services only supported one mailbox. GoDaddy has a "multitasking solution" that not only supports multiple calendars but multiple sources. The service, "Online Appointments" that is part of GoCentral, automatically sync appointments with calendars: iCloud, Exchange, Office365, Google and Outlook. So with its 24/7 online booking, a client can truly see that you are really available on Tuesday at 2pm, given everything you juggle.

Another twist was the multi-platform support. Here is what I mean. I love the FindTime feature in Office 365 to allow clients and colleagues to elect a common meeting time that works for everybody (say a 4pm meeting on Wednesday for 10+ people). It's brilliant except I have to initiate the polling and it's roots are embedded with Microsoft DNA.

Payments
The other announcement concerned simplifying online and offline selling for small businesses with a new Square partnership. Here is what GoDaddy shared:

Increasingly, businesses need to operate both in person and online to succeed. By collaborating with Square, GoDaddy is making this an easy reality for tens of millions of people building small businesses. As a first step in the partnership, GoDaddy has integrated Square payments for e-commerce product sales and online appointment booking in GoCentral, GoDaddy's mobile-optimized website builder. Integrating GoCentral Online Store and Square online payments enables small businesses to easily sell their products and services online and in person through a single Square account and GoDaddy website.

The second integration provides service-based businesses, such as personal trainers, hair stylists and photographers, the ability to book client appointments online, sync calendars using GoCentral, and get paid using Square. Payment transactions can be processed online, in-person or both without switching accounts.

"Teaming up with Square will simplify the path to success for a wide range of small businesses from clothing and apparel makers to fitness trainers," said Greg Goldfarb, Vice President of Commerce Products at GoDaddy. "We're solving everyday problems for millions of ventures that need to operate both online and offline so they can realize their potential with customers."
"Increasingly, businesses need powerful, integrated tools to grow an omni-channel business," said Pankaj Bengani, Square's Partnerships Lead. "By working with GoDaddy we're making it even easier for businesses to simplify their operations and manage all the ways they sell and get paid."