By: Annabelle Short

Whether it is the newest smartphone release or the latest gaming system, as consumers, we are always on the lookout for the latest technology.

As an avid Apple user, I can remember several years in a row where I have stayed up all night on that one fateful night in September when Apple made their big announcement and release.

Of course, I wanted to be one of the first to get my hands on whatever new phone they were coming out with this year.
Well, as business owners, we should be as eager and adaptive to new technology.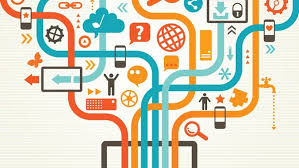 New technology is exciting, but as a business owner especially, it can also be daunting…
You, of course, will be presented with a few financial responsibilities and you might also endure a few hiccups along the way with integrating a new technology into your business.
But, in the long run, these new technologies are designed to improve your systems, your strategies, your customer experience – and, your business as a whole.
And, if you don't do your best to stay ahead, you might find yourself playing a very dangerous game of catch-up later on down the road.
So, rather than shying away from new technology – embrace it:
Get more info on how to maintain the health of your new database or new technology, utilize all aspects of your new system, and how to easily integrate it into what systems you already have running.
And, once you are ready to jump on board with the new technologies of today, here are a few you should consider:
1. Remote employees.
From freelance writers to schedulers and personal assistants – more and more people are choosing to work remotely and in just about every aspect of a business, you could imagine.
Thanks to remote employees, you can still have access to some of the best job applicants while reducing overhead and keeping your employees happy.
2. Digital forms of payment.
Have you ever forgotten your wallet and did not realize it until you were at the checkout?
That is the worst feeling in the world. Of course, the embarrassment of admitting your negligence, but, then, you have added an additional trip to the errand you were running.
But, digital payment can help avoid this issue – thanks to tools such as Apple Pay and Google Wallet.
Accepting digital payment not only offers an added ease to your customer's experience but it also offers a speedy checkout process and one that is more streamlined.
3. Information security.
In the wake of the major Equifax breach of security, more and more businesses are considering how at risk their customer's information might be…
In fact, each year, approximately 15 million people are victims of identity theft.
4. Live chat customer service.
One of the most convenient things for a consumer is the ability to online chat. Even if they are not in a place where they can communicate via phone, they can still get help from a live person.
There are several live chat customer service companies that will completely take care of this for you for a small fee.
Live chat customer service will help maintain the most important aspect of success for your business – the satisfaction of your customers.
5. Appointment scheduling software.
Scheduling appointments are time-consuming – so much so, you might even hire an employee to do just that for their job duties. But, adding appointment scheduling software to your line up of business technology can help streamline the process and cut back on expenses.
In addition, it can also make it easier and more convenient for your customers thanks to features such as automatic text reminders and confirmation abilities.
6. Cloud computing.
Whether you are checking the balance of your company bank account or managing your social media accounts, you are using cloud computing. The information is simply being computed through the Internet.
And, cloud computing can offer your business numerous benefits such as flexibility, mobility, reduced costs, automation, and much more.
7. Customer Relationship Management (CRM).
When it comes to the success of your business, it is all about having a clear visibility of your customer's journey – from their very first inquiry to the final sale.
And, you should also have a clear understanding of everything that happens in between.
A CRM is a set of tools and processes that can be used to manage, track, and analyze data of the relationships and interactions your business has with current and potential customers.
Then, this data can be used to improve the process and/or convince the customer to make that final sale.
So, in the overall aspect, a CRM can help improve the conversion rate of your customers.
Of course, new technology can be a bit of an upfront investment…
But, if it improves your bottom line, what are you losing? Nothing – it is just that, you are not losing anything. Rather, you are gaining several things.
Changing technology is a part of life and it is a major part of businesses as well.
So, as a business owner, you should constantly be on the lookout for the "next big thing" and how your business can benefit from it.
Remember, it is all about staying one step ahead of your competitor.