Hear ye! Hear ye! We have a limited beta opportunity for SMB Nation peeps with Pivot, a Marketing as a Service (MaaS) offering. Essentially, we're providing a way for you to outsource sales and marketing to experts so you can FOCUS on what you do best: GEEK OUT!
Few people realize that yesterday's publisher (the old SMB Nation) is today's marketing magic agency (aka analytics). We've used the common digital marketing tools for 10+ years to build and convert custom audiences for our clients. Now we're bringing that to you, the MSP.
Essentially this is an efficient way to increase and nurture your existing clients, generate more leads and drive new conversions to increase your revenue.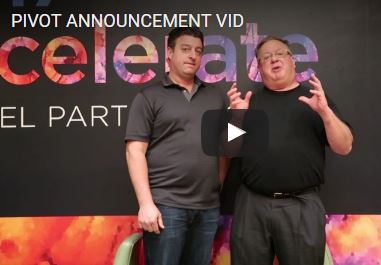 So why did we do it – this notion of delivering a radical new service to the SMB Nation peeps? Beyond leveraging time and labor (and freeing you up), we wanted to flex our mind muscles. Harry recently exited a venture-backed Big Data startup in downtown Seattle after 22-months as employee #2. Harry's pain and suffering is your gain as marketing is all about the magic of digital tactics to deliver client conversions. While it's the black box concept, we use open tools so you dial-up or down how much marketing support you want or need.
Finally – how did we decide on the name Pivot? It's very simple. These are transformational times in technology and who better than SMB Nation, a trusted community resource, to help you navigate the new-new. Think of it this way. If you do TODAY what you did YESTERDAY, you won't be here TOMORROW!
It all starts HERE where you discover to how dramatically increase your marketing effectiveness and make more money. That's truly the bottom line.