With Fall arriving quickly, it's time to sharpen the saw as a life learner. In the spirit of "back to school," Karl Palachuk has just released a four (4) volume "Managed Services Operations Manual" audio book set.

This is important to know for several reasons, the least of which is many of you are trying to "start over" in the new-new world of cloud.

Firstly, many SMB Nation fans have Attention Deficit Hyperactivity Disorder (ADHD) whether you want to admit it or not. How do I know this?
Because you are a high tech entrepreneur running your own MSP consulting reseller practice. And having ADHD is actually a success factor (even your secret weapon) despite what the Catholic nuns told you in grammar school. What I've personally found and studies now confirm is audio books are a way for ADHD afflicted people to "read books" and absorb the content. (Success secret: You can also have other documents read aloud in Windows 10 with the [Windows] [Enter] keystroke sequence to launch Narrator).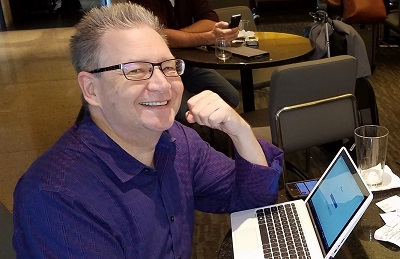 Keep your eyes open for a future webcast featuring Karl (Superman) and me (Batman) as we debate learning methods between ADHD and non-ADHD entrepreneurs. For example, I'm huge on using Slack and OneNote as a way to put everything back together again in my mind. Karl promotes the single screen experience and avoiding email pop-ups. We intend to host debate this before the end of 2016.

Second, I can honestly say, if I were starting-over, I'd start with Karl's operations books. Why? Because for many years I resisted bing operationally oriented and then I finally hired Jenny Hallmark to run things. The point is that I learned to honor the importance of operations the hard way. And while I'm streetwise today about this matter, I'd be a better entrepreneur if I had the likes of Karl's knowledge nuggets earlier in my career. This is something you can attend to right here, right now.

Third, Karl is a long-time friend of the SMB Nation family and has offered a 10 percent savings coupon for you. Here is how you enjoy the savings. Read the blog about what the Managed Services Operations Manual offering is and decide if this is right for you. Then when you purchase, enter the code smbnation2016 for the additional 15 percent savings.

Think of it this way. The entire Karl bundle is cheaper than one (1) undergraduate textbook in Aerospace Engineering. Trust me.