In a 140-character world, it's all about fast and easy combined with short attention spans. I get that as we explore new editorial genres at SMB Nation in 2016 including how to start over as an MSP in an era transforming technology business models.
So I share with you perhaps the fastest and easiest way to pivot your professional practice from yesterday to tomorrow: Workspace as a Service (WaaS).
I fancy myself as having two feet on the street and not just being a talking head analyst. Ergo I'm going to demo and review NetConnect, an emerging WaaS solution, right here right now.

Logon and GO!
First, you will logon to the demonstration site here.

Use the demo account (the user name and password are auto-populated)

Next you will be presented with a "workspace" that is a paradigm shift of sorts for many users. There are common applications presented including the Microsoft Office apps.

Open Excel and create a spreadsheet listing your calorie schedule for a day, as an example. Close Excel.




You will be returned to the WebTop.

Click Desktop. This is the "true" NetConnect experience. This is shown in Figure 1.

Open Google Chrome and go to www.smbnation.com for grins. Close Google Chrome.

And that's it.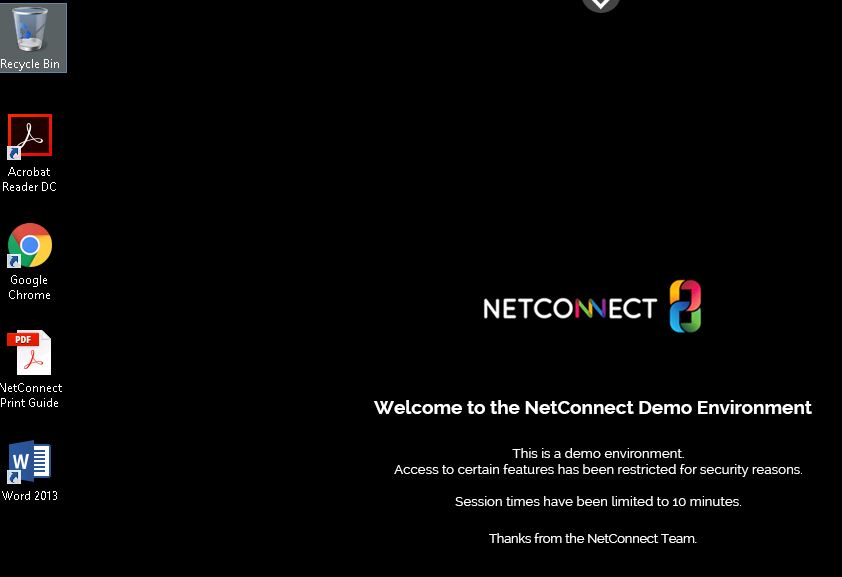 Perspective
Basically NetConnect and it's WaaS solution takes the desktop computing approach we tried years ago at Cloud Nation to a new level. It's faster, simpler and cheaper than the remote desktop solution Cloud Nation promoted via the Citrix Receiver approach. When you sign-up as a NetConnect partner here, you can reinvent yourself in under an hour as a WaaS solution provider. It's that easy.
Resources
You can learn more about NetConnect by watching two webinars we recently hosted about this WaaS solution: