Microsoft Chief Executive Satya Nadella says, "the enterprise cloud opportunity is massive."

By: Therese Poletti

Microsoft Corp.'s fiscal second quarter showed that its cloud-computing efforts are paying off with major revenue growth and improved profit margins, offsetting declines in its PC businesses.
Investors cheered Microsoft's MSFT, -0.23% results in after-hours trading, with shares rising 3.4%, while shares of Seattle neighbor Amazon.com Inc. AMZN, +0.31% plunged amid disappointment with holiday season profits . The two companies are proving to be fierce rivals in the arena of public cloud, where Microsoft is gaining momentum with its Azure product line, which saw a 140% year-over-year jump in revenue in constant currency.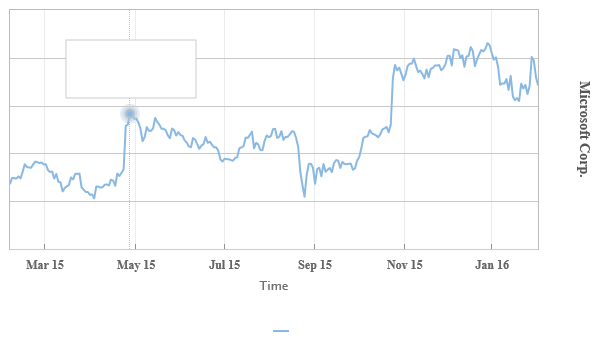 The software giant did not break out revenue of Azure in particular, only giving the growth rate. Azure is partnered with other cloud-focused products in Microsoft's "intelligent cloud" business, which reported $6.3 billion in total revenue, up 11% in constant currency.

"The enterprise cloud opportunity is massive, larger than any market we have ever participated in," Microsoft Chief Executive Satya Nadella told analysts.
Amazon and its fast-growing Amazon Web Services business is a formidable opponent in cloud computing, though. AWS reported $2.4 billion in sales for AWS on Thursday, with $687 million in operating income, for a revenue growth rate just shy of 70% — about half of Azure's reported rise, though Amazon's number did not use constant currency.
While Azure is growing faster than AWS, it is likely still far behind in terms of overall size. Ahead of Microsoft's earnings, Raymond James analyst Michael Turits estimated that Microsoft's Azure business would hit $501 million in revenue in the December quarter.
"It looks like they are slowly but surely gaining share, that's the key," FBR Capital Markets analyst Daniel Ives said.