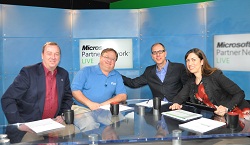 By Harry Brelsford, Chairman and Founder of SMB Nation, Inc. and Cloud Nation
Today the Microsoft Partner Network (MPN) took another step to participate in the partner news cycle as part of its rolling thunder strategy to introduce the Small Business (SB) Competency to its partner ranks. The seduction is a well thought out PR strategy in advance of the June 2012 SB Competency "soft launch" that will be "hard launched" at the Microsoft Worldwide Partner Conference (WPC) in early July 2012 in Toronto.
What occurred today was this. Myself and several other Microsoft partners including Jon Roskill, (Corporate Vice President, Microsoft Worldwide Partner Group), Kat Tillman (Senior Digital Marketing Manager, Microsoft Worldwide Partner Group) Leroy Colinwood (Project Manager, CloudLink Solutions), Steve Hall (CEO, District Computers in Washington DC), Carl Mazzanti (VP, Network Systems, eMazzanti Technologies) and John Krikke (Vice President, Onward Computer Systems) held a 30-min MPN LIVE broadcast to discuss the SB Competency. You can watch this starting Friday, April 27th at  
http://www.youtube.com/watch?v=zq1CLGmxyCc.
The generic topics concerned "seizing the SMB cloud opportunity through the Small Business Competency" and each panelist, myself included, had a different perspective. I tried to represent the hearts and minds of the small business owner expressing that many small business owners are HUNGRY for the next wave of business technology knowledge and that creates an educational sales opportunity for Microsoft partners to be a business advisor. The other panelists, who largely still "do the work of the Jesus" (Microsoft) were more keen on talking about the sale of Office 365 and Intune licenses, recurring revenue and the technical implementation opportunity. The "net-net" was that cloud subscription revenue is worth more to potential buyers than regular one-off project revenue.
Later, we discussed the reality of cloud in the SMB space. I proffered that the truth is in the middle with hybrid infrastructure being the true answer (a combination of cloud and on-premises). That's actually how we conduct our affairs at SMB Nation as a small business ourselves. Mazzanti was reporting significant growth in BOTH the Office3 365 cloud solution and his on-premises offering.
The show end with a conversation about how can you make the cloud services more profitable. This included adding "traditional" installation, configurations and monitoring services. Or would the $$ come from building packaged services/bundling. Neither approach is wrong; both are right. What I took away was that the cloud commerce conversation is quickly evolving in SMB and you can participate by jumping on the SB Competency in just over a month.
Again – I'd encourage you to watch the MPN Live show, starting Friday, April 27th, at http://www.youtube.com/mspartner.
Next blog I'll delve deeper into the SB Competency! So hang on fast!