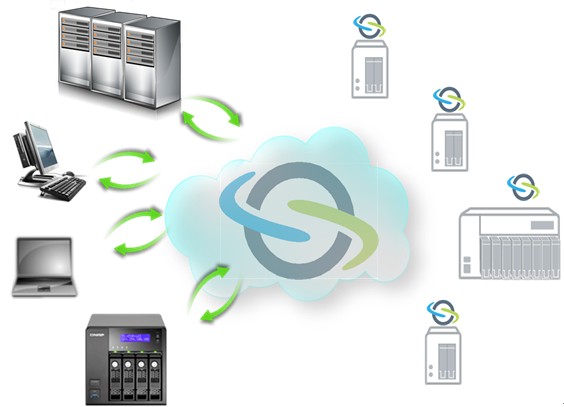 Symform first came to my attention in November of last year when I wrote about it at Cloud Nation. I found the company's approach to cloud storage intriguing and innovative—so innovative, actually, that I figured it wasn't even really cloud storage. Rather than relying on data centers, Symform leveraged P2P or distributed computing principles. In some ways, it was the BitTorrent of online storage.
When I downloaded and installed Symform last year on a server at work, I wasn't sure what to expect. At first, I thought I was going to get 200 GB of free storage, then realized that I had to contribute a whole lot of unused disk space to reach that mark. Also, since I was running it on a server, I'd have to pay additional software licensing fees. At the end of the day, I had 10 GB of cloud storage that I used to back up a handful of large ISO files that I definitely didn't want to lose.
I also thought backing up multi-GB ISO files was a great way to test Symform's claims of data resiliency and such. You see, I was still a bit suspicious of Symform's claims that they could break a file down into a small data blocks, shred that into 64 encrypted fragments, and send the fragments from each of those many (hundreds, thousands, millions of?) blocks streaming across the net to 96 different devices. It seemed like a whole lot of things could go wrong in that process.
At the time, everything worked well enough. I throttled the initial upload bandwidth to 512 KB/s, which Symform's network was able to maintain for the 5-6 hours it took to seed the data. As soon as I signed up, I started receiving daily reports about the status of my backups. And when I made a few changes to some of those ISO files, Symform seemed to quickly upload the changes without having to re-upload the entire ISO file.
Fast forward several months. I had mostly left Symform and those ISO files unattended, but now I was out and about and realized I needed one of those files I had saved to the cloud. So installed Symform on my laptop and kicked off a download. The download maxed out my available bandwidth (about 1.5 MB/s) and took about 20 minutes for a 2 GB file. Immediately after I finished downloading it, I mounted it as a virtual drive and everything worked without a hitch. Two points for Symform!
Unfortunately, with Symform's server licensing fees, it didn't make a lot of sense for my company to actually deploy the service with our clients (mostly because we didn't do enough cloud storage for Symform to be any cheaper than the Jungle Disk/Rackspace service we already used).
But now it's September, 2012, and things have changed. Symform has rolled out their new "Bytes of Bucks" program that enables any user—residential, commercial, laptop, server, whatever—to trade local storage for cloud storage at a 2:1 ratio or pay a flat-rate $0.15 per GB of storage. Customers can also take a hybrid approach, contributing whatever combination of bytes and bucks that make sense for them.
Under Symform's Bytes of Bucks plan, a quick back-of-the-envelope calculation shows that my company could easily make use of excess local storage and bring down our overall cloud storage costs to $0.2 to $0.3 per GB, which means we can charge customers less money even while growing margins. Not bad. It's not just my company either, by the way. Symform invited 160 of its biggest resellers into an early test of their Bytes of Bucks program. All of them accepted the offer, and everything I've heard from the pilot has been extremely positive.
I spent some time talking with Symform last week when they told me about Bytes of Bucks. Since then, I've gone back to Symform and put it through the paces again. I'm pleased to report that it continues to deliver a high level of performance with no discernable data durability issues. I uploaded a round of large PST files at about 1 MB/s and downloaded them a couple of days later at about 2.5 MB/s on a different computer. All of the files loaded up into Outlook without a hitch... and as many of us know, there are few files as fickle as an oversized, horribly maintained PST file.
Feature Overview
For anyone unfamiliar with Symform, here's the lowdown on its feature set:
Cloud Control: Symform's client has a tiny foot print and is easy to use. During testing, it was slightly more CPU-intensive than the comparable Jungle Disk client, but not by much (only a couple of percentage points).
Partner Portal: Symform resellers have access to a portal that allows for easy provisioning and monitoring of all Symform-connected devices. Monitoring includes e-mail reports and alerts.
Turbo Seeding: I haven't actually used this, but I could see how it might be useful in some situations. Turbo seeding allows you to "export" folders to an external device via Symform, which starts breaking up and encrypting the files as it transfers them. You can then take this device off-premises and important the contents into another Symform contribution device, which informs the Symform cloud to expect the data and tells the customer's server/computer/device that it does not need to upload the turbo seeded data. (In case it's not clear, the benefit of this is the customer's bandwidth and infrastructure isn't bogged down for days with the initial seeding procedure.)
Hot Copy: This feature essentially allows Symform users and resellers to make a complete remote, off-site copy of Symform-hosted data to another Symform-connected device. In other words, solution providers can use Symform to both back up their clients' data to the cloud and to a NAS or server at the solution provider's location.
VSS-aware: While Symform doesn't automatically rely on VSS snapshots when backing up data (which could become rather resource intensive) it can be set to do so for certain folders (such as ones containing SQL databases or PST files).
File-sharing: Symform certainly doesn't market itself as a file server replacement, but it could double as such in a pinch. Symform will synchronize files across multiple devices, and administrators can map folders stored in the cloud to an unlimited number of specifically designated devices. Symform customers do not incur any additional storage or bandwidth costs for sharing files across a company network.     

Conclusion
With the introduction of its Bytes of Bucks program, Symform has shown its commitment to disrupting the cloud storage market. Channel partners interested in offering a low cost but highly reliable cloud storage solution to their clients should give Symform a close look.
Perhaps the best (though also slightly paradoxical) thing about Symform is the extraordinarily high level of privacy and security it offers. Just as Skype protects users' communications from eavesdropping, so too does Symform secure its customers data by relying on distributed computing principles. With Symform, even reluctant cloud converts can rest easy that no one has access to their data except them—not even Symform.