From B2C to B2B: Carbonite's SMB channel strategy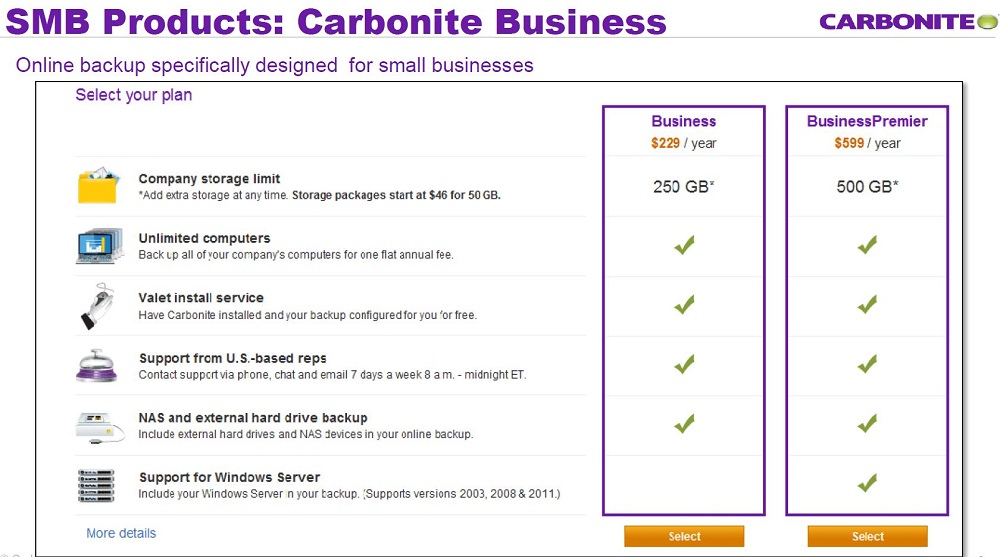 I'm a sucker for great brands. Radio Shack, Schwinn and other well-known brands have always had a certain appeal to me. In the hyper fast era of online backup, Carbonite is one of those trusted brands (it started in 2005). Its greatest asset of being a "go to" for consumers,  known for online simplicity and security, gives it a leg up as it reinvigorates its SMB channel strategy.
I recently had the opportunity to synch with Carbonite's David Hauser in an open-ended interview.  A little known fact is that Carbonite, like so many companies, started from necessity. The founder's daughter lost her college thesis in a hard disk crash. Thus the online Carbonite was born.
Fast forward to the SMB channel. Carbonite is in it to win it. Its lightweight client is easy to setup and it uses the familiar traffic light metaphor that I first used with Executive Information Systems (IEIS) in the early 1990s! That is, green light is good. The facts are this. There are currently two SMB offerings: Business and Business Premier. As the figure above displays (click for full image), the lower-level "Business" plan offers 250GB online storage with a laundry list of benefits (for $229/year). The upper-level "Business Plus" program (for $599/year) adds support for Windows Server. A shout-out that both programs offer unlimited devices but these devices today are limited to PCs or Macs. Carbonite doesn't yet offer true BYOD backup support for tablets or mobile phones. And you can purchase additional storage for any program at $46/year for additional 50GB online storage.
"We also think we offer a great experience for the SMB customer because we've invested heavily in US-based support. It's a key point to our support strategy." Hauser shared. Carbonite's site indicates that this support is provided out of Boston and Maine.
Partner possibilities?
So just what are the highlights of the Carbonite partner program? Based on extensive research and feedback, the top level highlights are:
Allows resellers a "cloud opportunity" entry point to promote to SMBs.

Can sell both the full suite of home and business offerings.

Carbonite's brand leadership highlighting security and simplicity, not to mention value, is an asset for resellers pitching this service.

The average authorized reseller, known as "Bob the VAR" earns recurring revenue of more than $20 per customer and $120 per business account.

Supported by account management tools and a dedicated Carbonite Reseller account management team.


For more information:
-          Carbonite Reseller Case Study – Corvallis Technical
-          Carbonite Reseller Case Study: PC DOCtectives
-          July/CompTIA: Carbonite Reseller Program news