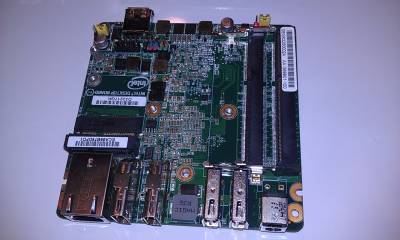 Watch this YouTube video interview at http://youtu.be/qH5N0SgkjBc and look for the hot air balloon video in the background. It is so beautiful. I love hot air ballooning. I've made many hot air balloon skydives. I can tell you jumping out of a hot air balloon is freaky; just ask my wife and son who went for a hot air balloon experience with me, except, I left them hanging, and jumped out.
The interview that's included in this video is with Mark Chels from Intel. It was shot at the Intel Solutions Summit last week in Los Angeles.
In the video, you will see that the processor and chipsets in the NUC are mobile-based. The NUC uses the same components as the Ultrabook. Ultrabooks and NUCs use the same basic components. Do you know what that means? The performance of a NUC is the same as an Ultrabook. Don't underestimate the power of a NUC.
The next-generation of NUCs will have the Intel CORE i5 processor; you have to see what these babies can do to believe it.
The masses will love the power you can get from these NUCs. Use them for your next computer workstation, media center, home theater, the sky's the limit.
This second video at http://youtu.be/0obw-dtHmtg shows the soon-to-be-shipped NUC with CORE i5 3rd Generation processor. In this demo the NUC is driving three displays simultaneously.
The Center Display is playing 4 HD videos through the HDMI port. At the same time two other HD videos are being played through the NUC's other display port. Running the processor in turbo mode at 2.6 GHz and the processor is only using 15w of power to do that. The total power consumption to do all this is only 30 Watts.
That's my story, and I'm sticking to it. What do you think…let me know in the comments section located below this blog.