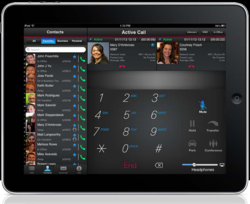 This morning, business phone systems provider, Telcom & Data announced the release of the latest Allworx System Software Upgrade, version 7.5. The main feature of today's upgrade is an app that allows users to extend IP-phone services to their mobile devices.
The app, called the Reach app, provides full VoIP features to iPhone and Android tablets and smartphones. This particular program was designed for work-from-home employees and vocations/roles that perform most of their work out of the office. Users may accept and make multiple calls simultaneously, and access their voicemail and address book.
For more information about Allworx, please visit the site here.