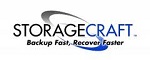 Yesterday, StorageCraft announced the start of a new offer for Canadian and US MSP partners, which includes a 30% discount on new devices using the company's StorageCraft Cloud Services Platform. The offer will run until 30 September, 2013.
"Small or medium-sized business using the StorageCraft Recover-Ability™ Solution, including StorageCraft Cloud Services, in their overall business continuity plan have quick recovery of systems and data, no matter how large or small the disaster," said Curt James, Vice President of Marketing and Business Development at StorageCraft. "The response to StorageCraft Cloud Services since it hit the market last year has exceeded our expectations. As StorageCraft approaches its 10-year anniversary, we're excited to roll out this promotional offer for StorageCraft Cloud Services as part of our celebration."
The discount applies to any new device activated between 5 August and 30 September, 2013, and is available to both existing and prospective MSP partners. In addition, the 30% reduction will carry through the first six billing cycles of the new service.
For more information about the offer, please visit the site here.