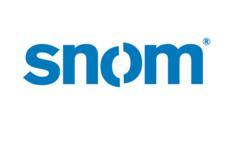 snom technology said today that its 7xx series and 8xx series desktop IP phones, as well as the PA-1 SIP paging adapter, are now fully interoperable with Clarity Telemanagement's hosted VoIP service.
snom's 710, 720, 760, 821 and 870 business phones, and the PA-1 paging adapter, successfully passed Clarity's validation testing process ensuring full end-to-end integration with its service.
Clarity Telemanagement, which provides advanced VoIP technology services offers voice solutions that range from an entry level voice and fax $39.99 monthly plan to advanced business offerings that include auto attendant, live answering service, call queue management, call recording, voice and fax broadcasting, and live attendant console to fit any sized business or enterprise need.
The company also offers SIP trunks, which use VoIP to connect an on-site IP-PBX to the Public Switched Telephone Network, enabling the convergence of voice and data on a single IP connection for significant cost savings.
The snom 7xx series VoIP telephones uses snom's eighth generation SIP firmware, which allows interoperability with a wide variety of SIP-based IP-PBXs and soft switches used in small and large office environments worldwide.