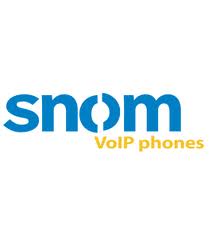 This morning, snom technology AG announced a series of updates to their snom UC edition 7xx and 821 business phones. These updates, which include an auto-configuration feature for Microsoft Lync, are designed to help organizations simplify their enterprise deployments.
Additional updates announced this morning include:
802.1x Authentication for wired endpoints.

Call-conferencing capabilities, through which any user can join a Lync web conference using a snom 7xx or 821 phone.

Support for advanced Lync features, including Click to Call, call transfer to mobile devices, the ability to add multiple lines to a single call, Music on Hold and Call Park.
"snom continues to find new ways to simplify Lync with Voice deployments by improving connectivity and compatibility of standards-based snom UC edition phones," said Dr. Michael Knieling, Managing Director, snom technology AG, in a press release this morning. "We're the first standards-based Lync-qualified phones to offer plug-and-play integration with Lync, taking our phones a step beyond other market options. Our easy configuration process and new features will continue to address critical Lync Voice requirements in enterprise businesses."
snom also announced that the 7xx series and 821 phones will come with automatic update capabilities as well as base firmware that will natively connect to the existing Lync server. The snom devices mentioned above all feature Apollo firmware, which has completed Microsoft's Compatible Devices Program's testing for certification with Lync.
The company will be performing a series of phone demonstrations this week during the Enterprise Connect 2013 event in Orlando, FL. For more information about snom, please visit the site here.