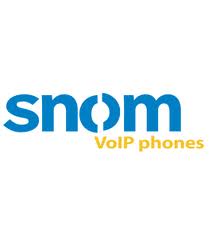 More news from the Lync Conference 2013 today as snom technology AG announced that their UC Edition IP phones have completed interoperability testing with Microsoft Lync 2013. snom is currently showcasing the 7xx series at this week's event in San Diego, CA.
"snom has a long history of leadership with Lync interoperability," said Michael Knieling, COO, snom technology AG, in a press release today. "We were the first SIP phones qualified for Microsoft Office Communications Server 2007 Release 2 (OCS R2) and Lync 2010, so we're excited to continue our unique partnership as Microsoft upgrades to Lync 2013. We're looking forward to demonstrating our snom UC Edition portfolio at the inaugural Lync Conference, and we're proud to help sponsor this event."
snom reported that the UC Edition phones were the first SIP endpoints in the industry to earn the highest desgisnation status, "Qualified," for interoperability with Microsoft Lync Server 2013. The company currently has six devices with this Qualified status, including the snom 710, 720 and 760 IP Phones.
Learn more about snom at the site here.