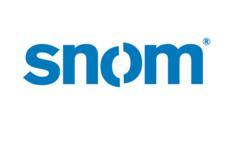 snom technology recently announced that it has partnered with Secusmart GmbH to add an anti-tapping feature to its phones. Secusmart GmbH is the company that is currently responsible for securing the German Chancellor, Angela Merkel's phone, and the two organizations have entered into numerous partnerships since 2012.
"It's important to safeguard enterprise voice communications at all levels and on all devices, "said Dr. Michael Knieling, chief operating officer of snom technology AG. "This solution ensures that voice data is secure from hackers."
The new anti-tapping feature will come in the form of an encrypted card, which will then be entered into a slot on the back of the phone, and will block the hacking of voice traffic. snom said that the first phone to come with this feature will be its executive-level snom 760. In addition, the company will be demonstrating this solution at the CebIT trade show, taking place March 10-14 in Hannover, Germany.
Both snom and Secusmart believe that voice communication is as sensitive as e-mail, and that adding this layer of protection can fit in an overall consistent security plan for an organization.
For more information about snom technology, please visit the site here.