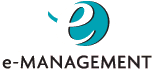 e-Management's first CyberRx survey revealed 63 percent of small businesses surveyed were insecure about continuous monitoring (CM) efforts against cybersecurity threat.
The respondents, attendees at the CyberMaryland conference, included CEOs, C-level executives and IT and cybersecurity professionals of businesses with fewer than 2,500 employees. Almost 70 percent of respondents worked at companies with less than 100 employees.
Though many respondents were insecure about CM, more than 60 percent provide periodic awareness training to ensure employees understand cyber threats and 45 percent said small businesses should be mandated to follow the NIST cybersecurity framework.