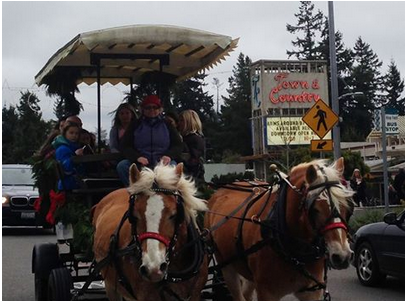 I was dazed and amazed at how each of the small businesses I visited on Saturday did not know much about the 3rd annual Small Business Saturday shopping holiday. Late last week I implored YOU to go out and get local on Saturday that you can read HERE. Here's my story:
I needed four D batteries for a device at work. I went to Walt's Lynwood Market and admittedly paid a bit more than normal. But I did so with a smile on my face. Walt is a pillar of the Lynwood village on the south end of Bainbridge Island, and has earned my business for life. Surprisingly – Walt and staff had little awareness of Small Business Saturday. It certainly didn't have any door buster specials or theme branding visible. Hopefully my early AM visit allowed them to pivot and promote this growing shopping holiday with later customers.
Additional visits included Bainbridge Distillers and Sandy's Barber Shop. Again I found that both merchants had little awareness of Small Business Saturday. It begs the question: how can "we" reach these important small business people? There is much noise out there that needs to be cut through. It's a challenge all readers of the SMB Nation blogs know all too well.
So what was your Small Business Saturday experience? Tell us by posting a comment to our Facebook site.