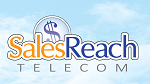 Yesterday, SalesReach Software announced that their application, SalesReach Telecom, has been selected by PSI Network, Inc., to help them achieve their goal of becoming a customer company. PSI network selected SalesReach Software's app from the Salesforce App Exchange.
"Our industry has changed a lot since we opened our doors in 1993 and the tools we use to run our business need to adapt and accommodate those changes. After a thorough vetting of the product's capabilities, we believe SalesReach Telecom as a product and Pete Keane's team as partners is the right move for us. We have a number of initiatives to improve the way we serve our agents and customers and have clearly seen that SalesReach Telecom will help us get there," explained Steve Olsen, President and Founder of PSI.
The SalesReach Telecom app is designed to transform Salesforce into a fully-functional telecom management system, which includes a CRM, as well as real-time telcom service availability status, proposal and quoting system, order processing and social media platform. The application runs out of the box, but is customizable for users, and will run on a Salesforce.com cloud.
For more information about the SalesReach Telecom application, please visit the site here.