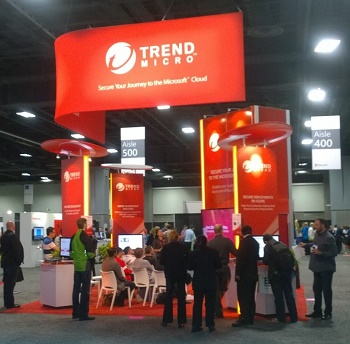 At last week's Microsoft's Worldwide Partner Conference (WPC), I had coffee with J.D. Sherry, Vice President, Technology and Solutions, Trend Micro. It was a chance to rediscover Trend Micro and thus reintroduce it to the SMB Nation community. To be honest, it'd had been too long since we last spoke, both figuratively and literally.
Pictured: Trend Micro's "Go Big" Presence at WPC
Reflect back to a different day long ago, Trend Micro was an anchor in the Small Business Server community hosting pre-days at our annual Fall Conference and working closely with Microsoft Most Valuable Professionals (MVPs) on product design. Trend Micro was the belle of the ball. But that stature eroded somewhat over the past few years as Trend Micro looked inward and reinvented itself. Today, it's back and made quite a statement at WPC with a large pavilion booth. Interestingly, in an industry where your absence is more conscious than your presence, Trend Micro was the only A/V-based total security company at the conference. No Symantec, No McAfee. No Sophos. Needless to say – Trend Micro signaled its intentions with a strong statement.
Sherry acknowledged and owned the transformation that Trend Micro has undertaken. It moved its headquarters out of Cupertino in the Silicon Valley. "It started in 2009 with large research investments virtualization and cloud security." Sherry said referring to Trend Micro's reinvention strategy. As an A/V company, it had to innovate and add more value to stay relevant. "We are trying to educate the customers to look at security as a major offering. Did you know that 33% of America was impacted by security matters with the Target breach grabbing the headlines?! And the small business segment is the fastest growing cloud market. Our ultimate goal for SMB is to implement the maximum security possible with the least amount of friction to consume their service. And look for our long-term commitment to data privacy."
Trend Micro's strategy is to do this with an investment you can tolerate without breaking the bank. "The shift to operating expenses is a more convenient business model to consume and deploy solutions. Sherry added. Bottom line on Trend Micro's transformation is that it's 2009 efforts started a journey to engineer technologies to perform well in the cloud with less friction and at a price point that small medium businesses could tolerate." Sherry said. On the partner program side, Sherry shared that there an elaborate training program with deal registration capabilities.